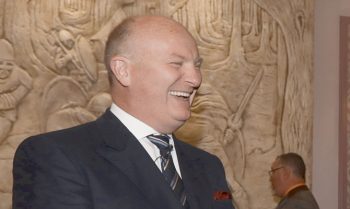 IN RECENT days, readers may have been given the erroneous impression that we somehow believed the referendum to repeal the 8th would be a close-run thing and that the No side led by gorgeous pouting celebrities such as Maria Steen, Theresa Lowe and Declan Ganley were closing the gap at an accelerated rate.
Headlines such as TOO CLOSE TO CALL and NEW REFERENDUM WILL BE REQUIRED may have been misinterpreted by some readers as confirmation of that impression.
We now realise, after the referendum was carried by a huge majority that the No side is a bunch of incompetent, reactionary failures who couldn't argue their way out of a paper bag. Today's headlines – IT WAS MARY LOU WOT WON IT and LEO THE LION will hopefully convey a truer picture of our view that the No side should never again be allowed access to the media.
Until the next referendum when once again we invite Mary, Theresa and, okay, even Declan to grace the pages of our esteemed organ, once again.
Maria Steen and Theresa Lowe offer excuses for the result: pages: 69 to 99
---
Scenes at Dublin Castle