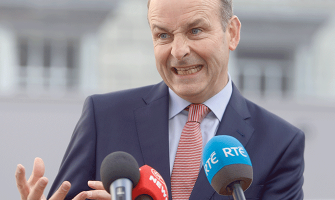 SDLP leader Colum Eastwood has confirmed his party is in talks with Fianna Fáil about a merger ahead of next year's local elections. 
This follows on from a series of deeply disappointing election results and the failure of its weak and uncharismatic figurehead to make any meaningful impact with voters. 
While the negotiations are at an early stage, it is expected that Micheál Martin's troubled party will begin rebranding itself as the SDLP sometime in the new year. 
Eastwood claimed that things were so bad for the soldiers of destiny that they simply couldn't be allowed to continue.
"Obviously it had come to a stage where something had to be done.  Micheál tried his best but he just wasn't connecting and it looked like Fianna Fáil were heading for political oblivion. Thankfully the right course of action is being taken," he said.