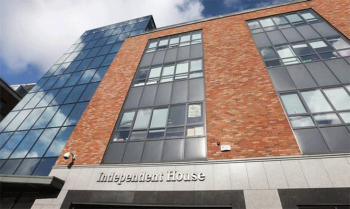 While shareholders may have taken a bruising this week, press reactions to the takeover at Independent News & Media were broadly optimistic. Commentators were keen to emphasise the business acumen of Mediahuis and their "focus on quality journalism". However, it wasn't all plain sailing for the Belgian publisher which had some INM-type battles of its own.
The Irish Independent reports that Mediahuis "continues its rapid expansion" while the Irish Times announced the arrival of "one of Europe's fastest growing media groups". The company was invariably described as an international group despite the Dublin takeover being their first foray outside of its Benelux heartland.
Rather than editorial innovation, however, this success has come largely through acquisitions backed by four banks. Company assists almost doubled in 2017 following a bitter takeover battle with media baron John de Mol, creator of Big Brother and The Voice.
Mediahuis were approached in 2016 by the Van Puijenbroek family who held a 40% stake in Dutch Telegraaf Media Group. This invitation was a surprise for shareholder de Mol who harbored grand plans to eventually merge the newspapers with his television empire. The saga played out for nearly a year with a string of counter offers, lawsuit threats and increasingly outlandish statements from de Mol, often in the pages of the group's own papers.
The move also aroused considerable division domestically with the prospect of Flemish companies controlling nearly 90% of Dutch major newspapers. However, by 2017 the "toughest job ever for Mediahuis" was complete. Asked about the issues he found at the "adrift" Telegraaf, CEO Gert Ysebaert stated that "questions like which costs are justified? were insufficiently asked".
Indeed, the focus on "quality" comes "in combination with strict operational and financial discipline". Something that will do little to assuage the fear and loathing at Talbot Street HQ.