PAPAL BULL(ETIN)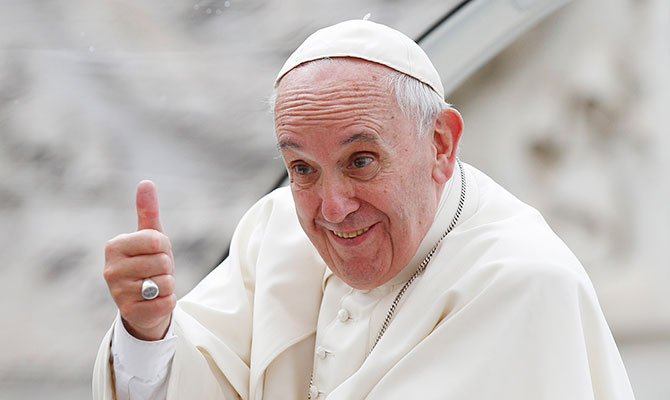 Humble greetings from your liberal-style modernist Supreme Pontiff in papal HQ. Spring has sprung and Vatican-style love is in the air. But what sadness to see those sexsational Irish Times reports about those young seminarian students. How could they not know about the nightmare of finding accommodation in Rome? I've heard the Irish Times has lost touch with Rome since it let that nice Agnew fella go.
Meantime, the Irish referendum result has given us all good reason to celebrate. The tiny number of sadly misguided and self-confessed Yes supporters who are plotting day and night to introduce obligatory drive-by abortion outlets scraped together a mere 1,429,981 votes. What a gross embarrassment.
Just compare these minuscule numbers with the overwhelming showing of all those multitudes of righteous Catholic – an amazing 723,632 votes. Time to crack open the Vat 69 if I'm not mistaken, eh?
Right now, your Jolliness is preparing for my historic pro-tolerance trip to Ireland to reach out to sinners. Maybe I will squeeze in a visit to Armagh. For me, this should be very educational. Up until this time, I have only ever read about Purgatory.
Uh-uh! Got to get packing! Ciao!
---