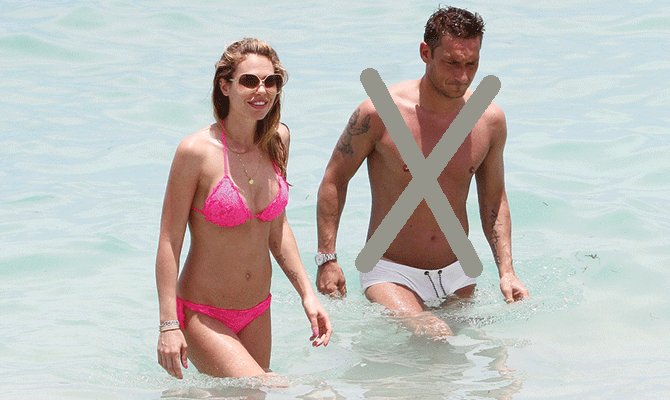 IT HAD to happen eventually. It couldn't go on forever. The whole of Rome and every tabloid newspaper in the world is in mourning this week at the retirement of Ms Hottie Totti from the pages of the tabloid press.
Ms Hot-to-trot's husband, Francesco Totti – a useless, over-rated stay-at-home footballer – joined her as she completed a simulated lap-dance of honour to the delight of fans in the Stadio Olimpico in Rome.
The ecstatic crowd cheered and waved banners reading Salutare 36:24:36 – an obvious reference to her 36 years 24 months and 36 days as a leading "player" in the modelling world (I think you've got this wrong. – Ed) — while the blonde bombshell strutted her stuff, pursued by a phalanx of panting paparazzi.
"She was a real girl next door" – Sid Slime, Editor-in-chief The Sun
"She seems like a nice Catholic girl" – P Francis, Vatican Vice
"Could we get her to do a centrefold for the mag?" – Niamh Phwoaran, Sindo
"She's so hot, she's cool. Love to meet her for a covfefe." D Trump via Twitter 3 am
Special 94 page full colour photo spread inside.
---