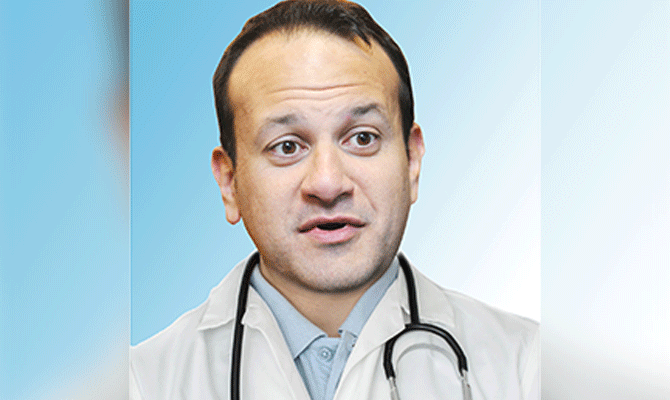 A new year dawns in the Eoin O'Duffy Memorial Hospital, aka Blueshirt General. During a round of the wards, hospital master Leo Varadkar gets a progress report from his Chief Finance Officer.
Paschal Donohoe: As I said when introducing my budget last year, it's all about steady and sustainable progress. But even so, with effect from midnight, patients will benefit from a whole raft of small but noticeable improvements in care.
Varadkar: Remind me?
Donohoe: Well, the 0.1 per cent decrease in out-patient charges is probably the most far-reaching change. But we also have 2.5 new beds opening today in St Luke's Ward. Plus we've begun repainting some of the corridors. Only an undercoat for the moment. I may provide for colour next year, if the fiscal situation allows.
Varadkar: I see. Anything else?
Donohoe: Yes, the new step-down facility for patients being discharged comes into effect today too.
Varadkar: Oh – that's big. A whole new unit for formerly acute patients on the mend but in need of rehabilitation?
Donohoe: Eh, no. This is more of a literal step-down facility. A footstool, for patients with short legs getting out of bed.
Varadkar (sighing): Right. Well, as you say, it's about steady and sustainable improvement. We can't return to the bad old, irresponsible days, when the Soldiers of Destiny Military Hospital, as it used to be, went bankrupt.
A group of paramedics approach urgently, pushing a patient on a trolley, with drip and cardiac monitor attached.
Nurse (to Varadkar): This man needs life support now, but the intensive care unit is full.
Varadkar (to Donohoe): Anything we can do?
Donohoe (checking papers): Hmm. I'm planning a new bed for ICU all right – let's see. No, unfortunately for this man, it's being phased in over two years, starting in 2019.
Paramedic (checking monitors urgently): We're losing the patient.
Donohoe: Sorry about that. But as I was saying to Dr Varadkar, my emphasis is on steady, sustainable improvement. (He and Varadkar continue down the corridor). Did I mention that the new children's hospital becomes fully operational today?
Varadkar: Let me guess? A Fisher Price one, for the waiting room in A&E?
Donohoe: Lego, actually. 300 pieces – very expensive. But you have to push the boat out occasionally.
Croke Park, later. Dr Varadkar is guest interviewee at an event to launch the Healthy Ireland 2018 initiative.
Varadkar: … So in conclusion, I would urge all of you to put your iPhones down more often this year, and take more physical exercise. Remember, small steps can make a big difference to your health. You just need to start.
Kathryn Thomas: I'm sure that's good advice, doctor. You're quite a fitness fanatic. What's your routine?
Varadkar: Well, I try to get to the gym most days before work. That's when I risk being photographed in figure-hugging tank tops as I arrive at high-profile events (laughter form the audience). I'm always morto when that happens.
Thomas: Ha, ha.Thanks, Doctor. I know you have to rush back to Blueshirt General now, so we better leave it there. A big hand for Dr Varadkar, ladies and gents. (The audience applauds)
Varadkar walks over to his communications adviser, who is composing text messages.
Comms advisor (typing away): Very good. Loved the bit about you being embarrassed by press photographers.
Varadkar: You know, you should take my advice about putting your iPhone down occasionally. You're always on it.
Comms advisor: Yeah, I will in a moment. I'm just letting all the picture desks know you're cycling back to the hospital. I have your extra-tight Lycra shorts in the bag there, by the way.
Back at Blueshirt General. Dr Varadkar is greeted with chaos, as the corridors are packed with groaning patients on trolleys. Stressed duty doctor Simon Harris struggles to cope.
Varadkar: What the hell happened? Terrorist attack? Natural disaster?
Simon Harris: Just the usual post-Christmas rush, exacerbated by Aussie Flu.
Varadkar: Aussie flu? I hope you don't get that from being the outdoorsy, active type?
Harris: No, it's a standard flu, but the most virulent in 50 years. So big a threat to old people that bishops are banning parishioners from shaking hands as a sign of peace.
Varadkar: Gosh. There's always something. Well, I'll leave you to it – you've got your hands full.
Harris: Don't look now, but here's Matron Foster. She looks like she's on the warpath again.
Varadkar (turning around): Ah, Arlene! How are things in the old lunatic asylum?
Foster: It's the Edward Carson Memorial Hospital to you. And it will remain so, despite your provocative statements about making it the northern wing of a new, expanded Blueshirt General.
Varadkar: With the consent of a majority of patients, of course.
Foster: Over my dead body.