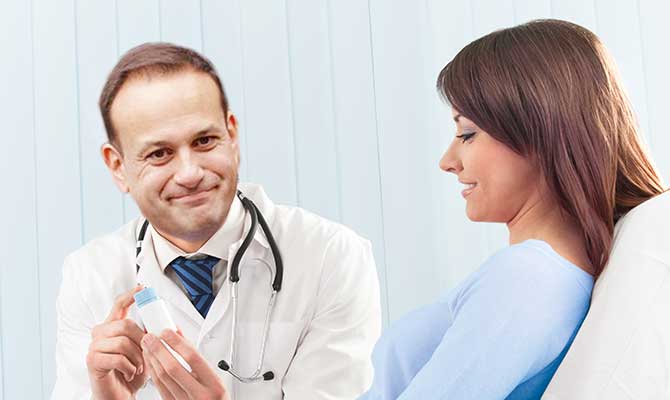 It's another busy morning in the Eoin O'Duffy Memorial Infirmary, aka Blueshirt General. But hospital master Leo Varadkar takes time out of his busy schedule for a walk-and-talk with his head of strategic communications.
Varadkar: So I've decided I'm shutting the unit down, John.
John Concannon: I feared as much.
Varadkar: I still think it was a good idea. I mean, we still need to communicate better. Doctors' handwriting is as bad as ever, for example – people still can't read our prescriptions.
Concannon (lowering voice): By the way, we had another pharmacist on this morning about one of yours. You wrote "aspirin" but it looked like "arsenic", apparently.
Varadkar: Oh no! Did the patient…?
Concannon: He's expected to recover – more or less. And don't worry, if the press hears about it, we'll just blame the Russians.
Varadkar: Good thinking. But as I was saying – the SCU. Instead of controlling the story, it became the story. My enemies have been using it as a stick to beat me with.
Concannon: Yes – it's unfortunate, but disbandment is probably best.
Varadkar: Of course, the critics will gloat about that too.
Concannon: Relax. We'll find a way to bury this news.
Varadkar (noticing activity in the corridor ahead, where nurses and paramedics are surrounding a prone figure): What's going on here?
Nurse: It's Doctor Coveney. He's had a turn.
Varadkar: Another one? That's his fourth turn this week.
Nurse: This one's more serious. He was rushing in two different directions while thinking about the abortion issue and, basically, met himself coming back.
Varadkar: Ouch – probably concussed so. (To Coveney). How many fingers am I holding up, Simon?
Coveney (struggling to focus): And f**k off to you too, Leo!
Varadkar: No Simon, it's three fingers I'm giving you, not two. You're disoriented from all those u-turns. (To nurse) See that he gets rest. And maybe give him a couple of aspirin.
Concannon (To nurse): That's A-S-P-I-R-I-N. In case he didn't make himself clear. Again.
Varadkar (noticing another familiar figure being pushed past on a trolley). That's Mr Ross, the head of the ambulance unit, isn't it? What happened him?
Paramedic: Attacked by a Woulfe.
Varadkar: A wolf? Seriously?
Paradmedic: No, a Woulfe – with a 'u'. (He reads from note) Seamus Woulfe, it says here.
Concannon: The hospital's legal advisor. They had a disagreement over a legal document about judicial appointments.
Ross: It's one of my hobby-horses.
Varadkar (peering under Ross's hospital gown and grimacing): Gosh. Those are big teeth marks.
Ross: He accused me of being responsible for a dog's dinner.
Varadkar: Looks like he thought you were the dinner. (He walks on) Ah, here's Dr Harris. You look worried Simon?
Harris: We ran blood tests on Dr Coveney. He seems to be suffering the effects of some kind of nerve agent.
Varadkar: Nerve agent? Has he been in contact with any Russians lately?
Harris: Well, there's that new Nurse – Tatiana. She's pretty hot, I must say. I wouldn't mind being in contact with her myself.
Varadkar: I'll have to take your word for that, Simon. But in terms of Dr Coveney's nervous system – what are we talking about, exactly?
Harris: Well it seems to be a slight loss of nerve so far.
Varadkar: Hmm. I suspect he's just worried about this big operation we have scheduled for May on – what's that patient with the mad Irish name again?
Harris: Bunreacht na hÉireann?
Varadkar: Yes, that's the one. The nearer we get to trying to remove this Eighth Amendment, the more nervous I get too, to be honest. It's the riskiest thing the hospital's ever done. Are we nearer a date yet, by the way?
Harris: Yes, I was about to tell you. It's all systems go for May 25th.
Varadkar: Really? Wow. (To Concannon). At the risk of teaching grandmother to suck eggs, we could announce this and the SCU thing at the same time?
Concannon: My thoughts exactly.
The operating theatre, later.
Paschal Donohoe: Thanks for helping me out here, Leo.
Varadkar: Don't mention it, Paschal. I like keeping my hand in with a bit of surgery – it takes my mind off other things.
Donohoe: Can I leave the stitching to you? I'm more of a cuts man myself.
Varadkar: Of course. I love stitching people up – it reminds me of how I beat Simon to the top job that time.
Donohoe: (laughing) Your wit is almost as sharp as my scalpel.
Varadkar (pulling thread through patient's stomach with a final flourish): There we are – all done. Another satisfied customer. Maybe you'd tweet a pic of that, John?
Concannon (searching pockets): Has anyone seen my phone?
Varadkar: Where did you use it last?
Concannon: Here. Just a moment ago. Wait – where's that ringing noise?
They realise the noise is coming from inside the patient. They stare at each other in horror for a moment, before bursting into laughter.
Varadkar: Good work, John. That's one way to bury news.