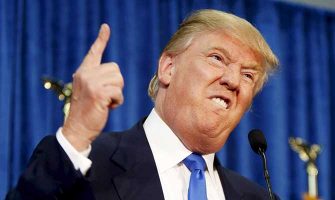 DONALD TRUMP has told reporters that he is looking forward to visiting Ireland in November and is "especially excited" about meeting "President" Seán Gallagher.
"I really like the cut of that guy's gib," explained the US president. "He reminds me of a slightly younger, bald me and he has faced the same challenges I have."
The controversial US politician noted that Seán Gallagher had been targeted by "fake news, the failing RTÉ and the failing Pat Kenny". He claimed that this was the type of treatment "dished out by elites when they feel threatened by self-made tycoons who roll up their sleeves before counting their money".
President Trump claimed that Gallagher is the sort of man who will "make Ireland great again – just like it was during the wonderful Celtic Tiger. No wonder they call him a dragon!"
According to the American president, the next incumbent of Áras an Úachtarán needs to be someone wealthy who "understands the working man, who has lots of companies and who gets up early in the morning, just like that Leo guy. That's who I want to meet on my tour of Doonbeg-Dubin."
Admitting that it was not a foregone conclusion that Gallagher would win the election, President Trump said he would be equally happy to meet any of the other self-made millionaires out to buck the system. "I'm told by my people that Marvin Duffy is another financial dragon, so he would do fine. And this Casey Jones guy is also apparently money-mad, so what's not to like?"
---