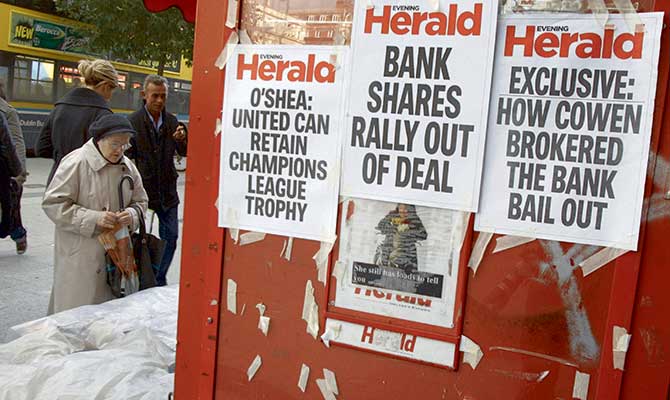 By All Financial Hacks,
There was a renewed outpouring of lengthy articles this week marking the 10th anniversary of the crash as economic experts struggled to come to terms with the fact that it was all very old news.
Day after day, newspaper front pages were filled with hundreds of long-winded headlines entitled "The Crash: 10 Years On" and "Ireland Exposed To Another Crash – ECB Warning".
Said one delighted editor, "For the past year, we've been filling up space with depressing pieces about the Brexit negotiations and the housing crisis, but the latest credit crisis anniversary stories and the possibility of a renewed financial crash have changed everything, giving desperate media outlets a reason to be really positive about the future.
"At long last we have something new with which to fill our dire papers over the coming weeks. Fingers crossed, we can get at least another month or so out of this 10-year anniversary of the tragic crash story."
On Other Pages
The night fear and loathing gripped RTÉ – Dave Murphy p3
Why oh why are these greedy bankers so awful? – Fintan Tool p4
Arghh! It's about to happen again – Cliff 'Edge'Taylor p5
PLUS: Stats, charts, scare-mongering, stock exchange pics etc.