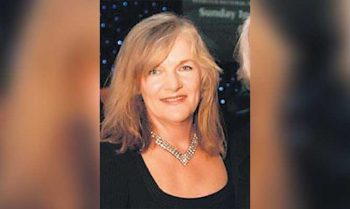 "A JADED CANARD laid to rest" was how Anne Harris described Denis O'Brien's approval of the INM sale in today's Irish Times indicating, she claimed, that this proved he had controlled the company all along, despite vigorous denials.
In fact, the sale's approval was a result of not only O'Brien's but also Desmond's endorsement. No matter. Harris had a particular grievance arising from an article that she wrote — as Sunday Independent editor — and which was heavily 'edited' (ie, censored) by then group-editor-in-chief, Stephen Rae in later editions of the Sindo that Saturday night. Chief among the changes was the deletion of a sentence stating, "in practice he does (control INM)".
See below from August 1, 2014.
[STOP THE PRESS]
[CENSOR THE EDITOR]
[WHO CONTROLS INM?]
WHAT a Pandora's Box Anne Harris opened recently in her clumsy attack on poor Goldhawk coupled to a confused rant against Denis O'Brien's control of INM. In favourite Ben Bradlee mode, Harris proclaimed the editorial virtues which guide her endeavours – to "inform, provoke, entertain and above all tell truth to power" – and in particular how she would never humour DOB by compromising those principles.
How interesting then that the original version of this thundering denunciation of Goldhawk's article (headlined, "the whole story is a lie") contained the following passage: "Denis O'Brien is the major shareholder in INM. In theory, with 29% of the shares, he does not control it. In practice, he does". But in later editions, the sentence, "In practice, he does" disappeared.
Again, querying DOB's ability to understand newspapers, Harris initially argued, "With the restrictive charter for journalists proposed last year, and some garrotive (sic) new structures, Denis O'Brien does not make this easy." But the later editions carried a new passage in which the garrotte (a Spanish method of execution by strangulation, using an iron collar, according to the Collins dictionary) had, mercifully,disappeared and DOB is merely advised to listen to journalists (as opposed to not making things easy for good journalism).
Finally, Harris concluded her polemic against DOB by stating that the government's failure to address "one of the most concentrated media structures in Europe" (to DOB's benefit, one must presume) "serves nobody's interests. Neither readers, editors or freedom of expression". This sweeping condemnation of DOB's pernicious effect on a free media is also excised from later editions, which merely refers to "nobody's interests".
However, it is the original charge that, "In practice, he does" (control INM) that will be of most interest to DOB, especially as it came from the editor of INM's largest selling newspaper. The media mogul was careful not to raise his INM shareholding above 29.9% (30% ownership would compel him to bid for the entire company) in the share restructuring last November. However, with Dermot Desmond taking his shareholding up to 15%, the two between them occupy a controlling position. But any suggestion that they do or did combine in this exercise to secure control is a serious allegation of breach of stock exchange controls. And DOB or his command staff at INM will surely cite the Broadcasting Authority of Ireland(BAI) ruling 18 months ago that O'Brien – who also then owned 29.9% of the company's shares – does not control Independent News and Media (INM). Most ironically, Harris suggested in both versions that Goldhawk had defamed DOB before going on to allege that he controls INM "in practice".
Happily, the group editor of INM's titles, Stephen Rae, was alerted to Anne's heresy before too many copies of the Sindo came off the presses and the editor's copy was suitably censored in the later editions.
Another interesting comment in the Harris onslaught against various quarters is that somebody has an axe, not only to "grind" but also to "wield" and that the identity of whoever inspired the Phoenix article can be ascertained by the question, "Who benefits"? Even Goldhawk hesitates to point fingers in the direction of anybody in what appears to be a Borgia-like hotbed of power struggle, intrigue and backbiting at Talbot Towers. But the suspicion is forming there that Harris has changed tack and now wants to stay on after her contract expires. It looks as though Anne believes that one or several of the jealous courtiers at DOB's court are determined to defenestrate her either before or after the expiry of her contract.