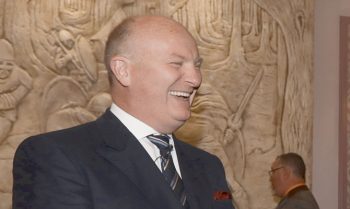 Among the winners and losers in last week's Spanish election are the once marginal Ciudadanos who increased their number to 57 seats. The party are benefiting from disillusionment with traditional ruling parties, but the 'Citizens' are also having trouble shaking off the past.
The party teamed up with Declan Ganley under the Libertas Spain banner in 2009 and questions about that alliance resurfaced recently when revelations over financing hit the headlines. Enrique de Diego, a former senior journalist with Intereconomía Television, revealed details of Ganley's "easy chequebook" and an intriguing tale of how the marriage came about.
The key link was Popular Party (PP) politician and President of Intereconomía, Julio Ariza, who acted as match maker. The PP were eager to out-flank competition from nationalists in Catalonia and the fledgling Ciudadanos were viewed as an ideal buffer. With Ganley as patron and Ariza's television network, the PP could clandestinely build up the smaller party who would act as a future puppet, making up the numbers to keep rivals at bay.
"Money there was. And not a little. The key is that there was going to be money, a lot of money, that Declan Ganley, the Irishman, as he was called, with hopeful joy, in the corridors of the Intereconomía Group, was immensely rich" de Diego told Spanish newspaper El Plural. He also claims staff from Intereconomía travelled to Dublin to bring home the dineros.
No amount of money could save Libertas however, and the Popular Party now find Ciudadanos just a few seats behind them in parliament. Julio Ariza joined Ganley again in 2013, during a mooted bid for ownership of the Sunday Business Post.
Elsewhere, erstwhile Libertas candidates have swept into the mainstream on a current of rightwing nationalism across Europe. There has been notable success for Timo Soini who has led his party into coalition for the first time in its history. Following a breakthrough in 2011, the True Finns Party have rode a wave of anti-immigrant sentiment to become the country's second largest. Soini's suitability for office was criticized last year when he, as Minister for Foreign Affairs, published a blog post condemning the Irish abortion referendum result.
Strategist Lynton Crosby played a leading role in Teresa May's disastrous 2017 election and is facing increasing scrutiny after it emerged last week that his consultancy firm are behind a myriad of highly expensive hard Brexit online advertising campaigns.
While in France, Paul-Marie Couteaux is campaigning for far-right forces unity under Marion Maréchal-Le Pen for the Euro elections. Fellow former MEP Philippe de Villiers left the European Parliament in 2014, but has remained a public figure and lately advocate of Vladimir Putin. He has just published a controversial best seller in France which argues that the European Union is construct of the CIA.