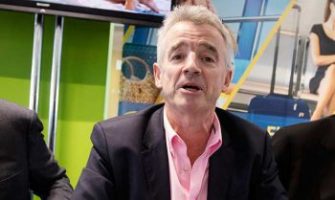 THE TRAINER Mouse Morris has had one of the longest serving relationships with Gigginstown and Mick O'Leary, but that relationship looks like it's being put to the test following a twitter outburst by Morris's son, Jamie.
Mouse's Beyond The Law won a chase at Cork on Easter Sunday, relegating the Gigginstown-owned Rathure Rebel to second. Young Morris posted a picture of the winner on Twitter and accompanied it with a comment along the lines of the win being even sweeter given the connections of the defeated horse.
When quizzed by a prominent Irish racing hack over the reasons for his Gigginstown schadenfreude, Jamie proceeded to deliver some very choice and colourful phrases about O'Leary that even the Ryanair boss's biggest critics might have found a tad harsh. Morris junior maybe harbours some bitterness over Gigginstown's policy shift last year, which saw O'Leary transfer a number of horses from Mouse Morris to Gordon Elliott and re-allocate Morris some young point-to-pointers instead.
This would have been viewed as a demotion for Morris, despite the trainer winning O'Leary a first Cheltenham Gold Cup with War Of Attrition in 2006, not to mention an Aintree Grand National in 2016 and two Irish Nationals. As trainers and jockeys know, however, O'Leary has a short memory when it comes to past success and his handlers are only as good as their last winner.
Even so, the thick-skinned O'Leary would have been somewhat shocked by the aggressive outburst and personalised nature of the online comments from Jamie Morris – if he saw it. The Twitter thread was removed soon after being posted.
Morris 'minor' no longer works in his father's yard or in the industry, but it is unlikely the Twitter intervention will have a positive impact. Perhaps he should have taken a leaf out of Davy Russell's book and bitten his tongue the way the jockey did when originally sacked by O'Leary five years ago.
Russell has come full circle, having taken the sacking on the chin, and won his second consecutive Aintree Grand National for Gigginstown last month on board Tiger Roll.