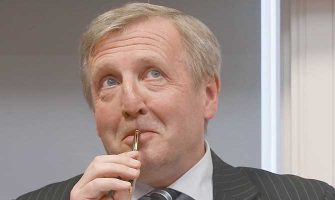 MEMBERS OF the Association of Irish Racehorse Owners (AIRO) must be wondering if a missive from Minister for Agriculture Michael Creed this week is set to land the organisation with a hefty legal bill. The matter will be adjudicated on tomorrow (May 31) and the odds on a setback for AIRO have been shortening.
It will be recalled (see here) that an attempt by AIRO's governing council to nominate Caren Walsh for membership of the board of Horse Racing Ireland (HRI) came a cropper earlier this year. Walsh is a member of the governing council and AIRO had changed its rules a couple of years ago to limit the selection of its HRI nominee to members of the 12-person council.
The current AIRO nominee on the board of HRI is Jimmy Gough, whose four-year stint has expired. He objected to the nomination of Walsh as his successor, leading to a legal stand-off, with the result that the agriculture minister had to saddle up. Creed has now written to the parties concerned and advised that the decision to put only a single candidate (Walsh) before the general membership for selection is "fundamentally at variance" with the relevant legislation.
The minister has now directed that a minimum of two candidates should be put forward by the governing council for election to the HRI board – a ruling that could have implications for the awarding of legal costs. (Gough had sought a High Court injunction after his initial concerns about the nomination process were ignored.) Creed's intervention looks likely to result in costs being awarded to Gough.
At AIRO's annual general meeting in March, James Mescall, a member of the association, raised concerns about members' liability in the event of a big legal bill or damages. The response from the council was that AIRO has €100,000 in its coffers but given that they brought in a senior counsel (Bernard Dunleavy SC) for submissions, which forced Gough to do the same (Feichín McDonagh SC), a final bill for overall costs could potentially exceed six figures and land the hapless members with a levy.