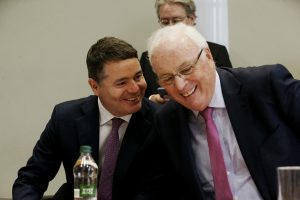 BRENDAN McDonagh and Frank Daly – chief executive and chairman respectively of Nama, kept straight faces yesterday when announcing that the bad bank would earn a €4bn surplus by the time it winds up (some time in 2021 apparently).
It takes some impressive contortions to arrive at a 'profit' figure of approximately €4bn given that Nama acquired a stock of property loans with a nominal value of €74bn for €32bn – ie a discount of 57%. It is only by completely ignoring this €42bn write-down that enables Daly to refer to a figure of €4bn "assuming market conditions remain favourable". The reality, of course, is that Nama (the taxpayer) will lose €38bn.
Going through the looking glass like this puts a major gloss on Daly's near 10 years in the Nama chair – a period that should have enabled Nama to return something like the full €74bn given market conditions – but what is harder to avoid is the starring role that Nama played in the shocking housing crisis in Ireland, particularly in Dublin.
Goldhawk previously examined Nama's modus operandi.