FOLLOWING the announcement of the impending exit of Malin Corp executive chairman Ian Curley, read Goldhawk's October 2018 analysis of the company's recent turbulence below.
BAD MEDICINE AT MALIN CORPORATION
THE SAME week that Malin Corporation had its explosive AGM (September 13), Don Panoz – the founder of its predecessor company, Elan Pharmaceuticals – died at the age of 83. He set up Elan Pharmaceuticals, where New York banker Kelly Martin eventually took charge before selling the company to Perrigo for $7bn in June 2013. The latter's record at Elan was mixed and shareholders in his subsequent venture, Malin, have had little to cheer. Martin is no longer CEO, but the company looks a very long way from delivering any return.
Martin floated Malin in 2015, raising €300m on the Irish Enterprise Securities Market. At the time Moneybags (see The Phoenix 22/5/2015 – 'Malin Corp directors get the best medicine') questioned the way Martin and the other founders set up the company in a way that ensured huge returns for themselves.
Malin duly invested in more failures than successes, ending up with a boardroom barney that saw Martin exit last year, despite the board having featured mostly colleagues or appointees of his. The good news for Martin was that he got a full two years' salary compensation package, as per his contract.
Martin's exit was followed in December by that of his chairman, Kyran McLaughlin, and the appointment of Donal O'Connor, chairman of Anglo Irish Bank from 2008 to 2010.
In his March 2018 chairman's statement, O'Connor referred to Martin's "resignation as CEO and board director". If Martin did resign, the assumption would be that he was not contractually entitled to any compensation. Elsewhere in the annual report, however, it is stated that "Mr Martin's employment agreement with the company was terminated with effect from 30 September 2017." These statements appear contradictory.
The discontent of Malin shareholders, in particular Neill Woodford's equity fund – the largest shareholder with 24% – surfaced at Malin's AGM on September 12 last. The majority of shareholders voted against the company's executive pay scheme, with 27% voting against the re-appointment of Martin's colleague and replacement as CEO, Adrian Howd.
O'Connor had bailed out before the AGM and had been replaced by Ian Curley, who has been through the wars with Paul Coulson in the heavily indebted Ardagh.
Meanwhile, although he had his CEO contract "terminated" and he has also been paid off, Martin was retained on a three-year consultancy contract at a fee of €600,000 pa, to "act as an advisory partner to the Malin board of directors and executive team", as well as provide "strategic and operational advice to a number of Malin investee companies". That is some contract termination.
Martin also continues as interim CEO of Novan, one of Malin's significant failures. It was the biggest original founding investment by Malin in March 2015, at a cost of $29m and a commitment to invest $104m. Despite Novan having moved into phase 2 and phase 3 trials for its skin disease treatment, it was gobbling up money, with Malin investing a further €6m in 2016. Novan was looking for a further $38m in January this year, but Malin's board refused to participate and its shareholding was reduced to a fairly nominal 10%. It would be interesting to know what advice Martin gave to the Malin board under his advisory consultancy contract.
The €35m Malin has invested in Novan was, according to Elan's accounts, only worth €9m at the end of 2017. But Novan's share value has continued to fall on the Nasdaq, dropping from $4.20 to a current $2.80 a share over the last nine months. This means Malin's investment here is now only worth €6m, representing an 83% fall in value.
PAY DEALS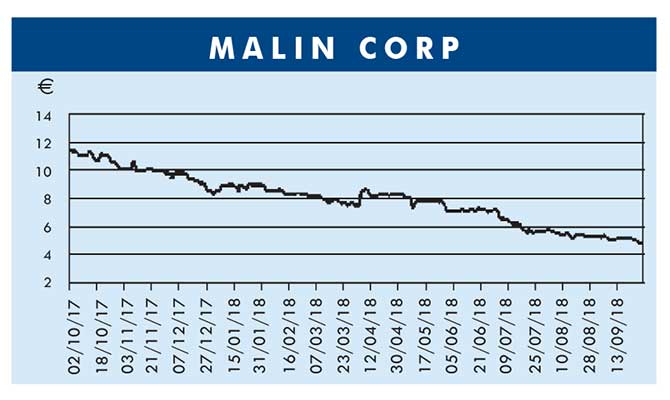 Not only has Martin since been made Novan's permanent CEO but Bob Ingram – who was brought in by Martin as chairman of Elan and was a director of Malin when it floated – is chairman of Novan. He has just brought in a $50m incentive package for Martin and his team in this North Carolina pharma company.
At the time of the IPO float in March 2015, when Malin raised €300m cash issuing shares at €10 each, it was clear the founders had done very well for themselves. Instead of simply acting as very well-paid executives, they also set up their own service company, Brandon Point Industries (BPI), to charge Malin an annual service fee of $1.7m, as well as getting a one-off payment of $3.1m for arranging the Malin floatation. To top it all off, BPI also got a free allocation of 4% of Malin's shareholding, worth an initial $12m, and a further possible performance fee worth up to $37.7m.
BPI's shareholders – Kelly Martin, John Given, Adrian Howd and John Murphy – were also Malin executive directors, while Malin's former chairman, Kyran McLaughlin, was also a €1m convertible loan note holder in BPI.
Despite the generous rewards and incentive package, some of the boys also got huge salaries. Martin received almost €6m over the past two years, while Given, as the initial chair, got a most impressive €3.6m in 2016. The replacement CEO, Adrian Howd, appears to be on a €3m salary package.
Martin has done particularly well and also managed to sell 600,000 Malin shares at near its peak price of €14.40 in June 2016 to realise €8.6m cash for himself. There was a three-year lock up on the original founders' shares divvied out, but it was explained in the annual report that Malin "was informed by the BPI Group company that the lock-up arrangement had been released in respect of approximately one-third of the founder ordinary shares".
The move did get "prior written consent of Davy", where former Malin chairman, Kyran McLaughlin, is head of its capital markets division and held a $1m 10% convertible loan note in BPI. McLaughlin had also been a long-time soldier with Kelly Martin back in the Elan days, serving on the board from 1998 to 2013.
COST CUTTING
Malin has gone on a serious cost-cutting campaign since Martin's departure, closing down its big New York office and seriously cutting back its operating costs, but there is little room for optimism.
It has raised almost €400m by various share placings, but recorded pre-tax losses of €50m in 2015, €86m in 2016 and €107m last year.
It is difficult to understand how Martin could come out of this disaster with the best part of €25m in less than three years.
While Novan has proved disastrous, Melinta has actually been worse. The €47m invested in this antibiotic development company designed to treat acute skin infections is now worth only €20.5m, equating to a 56% fall.
Elsewhere, Malin invested €20m in NeuVT for a significant 32% stake, but has now written this off.
Adrian Howd, an investment banker, was Malin's chief investment officer and was central to all investment decisions alongside Martin – ie an inherent part of the management team that has so far failed its shareholders.
Despite the €20m investment 18 months ago, Howd says NeuVT "does not currently have the capital to advance its products that are in development" and that "the business review will result in the separation, sale or spin off of its business".
Another disaster has been Screnus, in which Martin and Howd invested €25m. This was a meant to be a low-risk proposition run by an ex-Elan researcher, Menhis Bairu. His idea was to partner pharma companies to help them roll out their therapies in the difficult African market. The whole of this investment has been written off and neither Martin nor Howd have anything to say about the company's performance, despite Malin having held a 76% controlling interest.
The current Malin board has committed to dramatically cut down on Malin's own internal costs – which never should have been significant as it is only an investment holding company – and focus on Malin's four successful investments.
INVESTMENTS
These include Poseida Theraputics, in which Malin invested €32m for a 37% stake. Poseida is only starting phase 1 toxicity tests for its multiple myeloma treatment and is years away from FDA approval.
Immunocore attracted a €73m investment from Malin for only a 10% stake, but it has two products with phase 2 trials.
The third prospect is Kymab, in which Malin invested €21m and has a 9% stake. It has moved into phase 1 studies on a treatment for auto-immune diseases. Meanwhile Viamet, in which Malin invested €30m for a 15% stake, has developed an anti-fungal drug and is in phase 3 trials.
Having floated at €10 a share in March 2015 and rising to a near €16 peak, since then there has been nothing but bad news, on top of which Malin issued further shares at €10 and €8.50. With the shares now down to €4.70, they are trading in line with book net asset value. However, if you accept the putative value attached to the investments made by Malin's team, the shares are trading at circa 35% discount.
Some of Malin's investments may pay off in years to come, but it will likely be 2022 before there is any serious evidence of this.