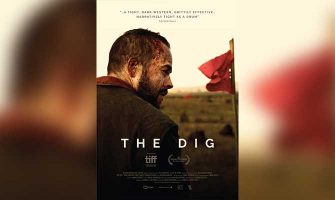 ANY FILM coming out of Northern Ireland and titled The Dig is, even if not overtly, a 'Troubles' film, likely to be viewed as an allegory of post-conflict unease. That may be true of brothers Andy and Ryan Tohill's directorial debut, written by Stuart Drennan, but it presents as an economically told story of the after effects of a 15-year-old murder case in which the body of the victim, a young woman, was never found.
Carried by a cast of four – released murderer Ronan Callahan (Moe Dunford); grieving father Sean McKenna (Lorcan Cranitch); the victim's younger sister, Roberta (Emily Taaffe); and local policeman Murphy (Francis Magee) – The Dig is played against a backdrop of struggling hill farms and a bleak expanse of blanket bog, where Cranitch's character has spent years digging in the faint hope of finding his daughter's body.
Read the full review here.