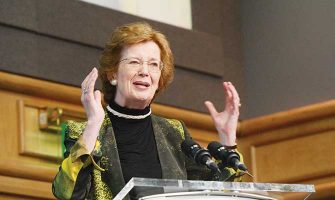 SO FAREWELL then to the Mary Robinson Foundation (MRF) – the eponymous climate change organisation established by Mary Robinson almost ten years ago. It has just wound itself up.
Last Christmas (see The Phoenix 14/12/18) Goldhawk revealed that Robbo had stepped down from the board of the MRF, where she had been in situ for many years, while remaining as president of the operation (essentially the chief executive role). The 2017 annual report noted that Mary Robinson was stepping down from the board "for good governance reasons".
Until around five years ago, there had been a separate CEO but a restructuring saw Robbo placed at the top of the pyramid, with the senior suits reporting to her. The board is chaired by former Ulster Bank boss David Went (who previously chaired The Irish Times Trust) and also includes the likes of former Institute of International and European Affairs director general Tom Arnold and UCD's Frank Convery.
The star-studded international advisory council features various donors to the MRF, such as Sheikha Mozah Bint Nasser Al Missned, chair of the Qatar Foundation and Judith Rodin of the Rockefeller Foundation. Other donors who have backed the foundation include NTR, the American Jewish World Service and the Schmidt Family Foundation, which was set up by former executive chairman of Google, Eric Schmidt. The Irish taxpayer was also a backer through Irish Aid.
Other council members are moneybags Richard Branson, nearly man Al Gore and former EU vice president Margot Wallström.
The statement that has been posted on the MRF website notes that in January 2018 the board of the foundation "announced their decision to scale back activities by the end of 2018 and undertake a planned closedown of operations, to be completed by March 2019". It had been far from clear, however, that the MRF was going to close down. The January 2018 decision was noted in the 2017 annual report published last year that referred to a decision to scale back the operations and "not undertake any new policy or research activities".
Significantly, there was no mention of winding up and, indeed, the statement went on to refer to a decision to focus, from the end of 2018 "on the promotion of climate justice, human rights and women's empowerment". Moreover, "no formal decision has been made to terminate all activities".
Nevertheless, the company behind the MRF was liquidated at the end of last month. It is clear the MRF was busy in 2018, with the total assets of the foundation at the time of the liquidation listed at €65,000, while the accounts for 2017 had shown total funds carried forward at the end of that year of €1m.