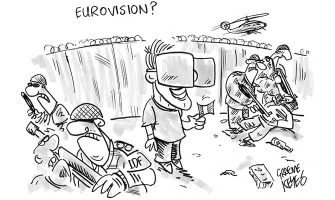 IRISH TIMES opinion formers lapsed into pro-Israeli sentiment recently, not for the first time, as defenders of Israel's hosting of the Eurovision song contest dominated the newspaper's columns. Supporters of BDS (Boycott, Divestment Sanctions) were relegated to the letters pages and occasional quotes rejecting allegations of extremism.
The IT published a lengthy interview with Israeli Ambassador to Ireland, Ophir Kariv, in which he denounced boycott supporters as "a very extreme minority". This was followed by another substantial column by staff journalist, Mark Paul, who claimed that boycotting Eurovision in Israel paralleled the Nazi boycott of Jewish businesses in the 1930s.
Two lengthy opinion pieces from resident PC polemicists, Fintan O'Toole and Hugh Linehan, agonised over the arguments on both sides but failed to say whether they agreed or disagreed with the boycott.
It is more than faintly ridiculous to conflate Nazi treatment of Jewish, stateless people with a boycott against a song contest that has been politically weaponised. This falls into the trap — enthusiastically in Paul's case — laid by Israeli propagandists which claims that any criticism of Israel's barbarous treatment of Palestinians is necessarily anti-Semitic." Paul argues, "I would never support a boycott that even risked giving the mistaken impression of targeting Jewish people".
That's a high bar for supporters of the moderate, human rights, BDS supporters to reach. According to Paul's rules any pro-Palestinian campaign must meet the unlikely approval of Israelis even if the latter are mistaken in the belief — relentlessly peddled by their own body politic— that they are the victims not the perpetrators.
White South Africans often bleated about being made pariahs by western states and liberals that had once turned a blind eye to Apartheid. Everyone claims victimhood. The trick is to distinguish between such spurious claims and the real thing.
When will the IT give similar space to the BDS activists as it has afforded to Israeli supporters?