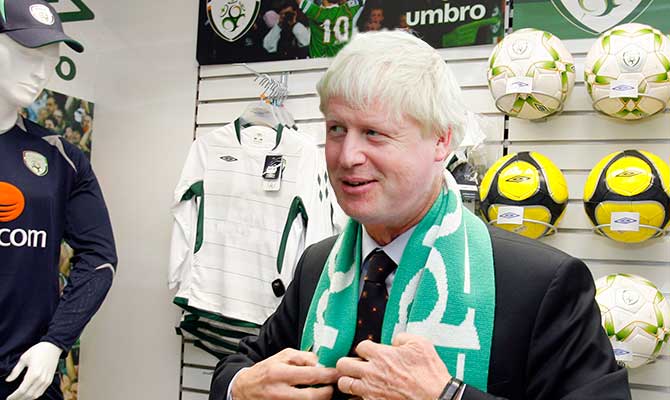 WHILE THE FAI has dismissed suggestions that Boris Johnson could be the next chief executive of the troubled organisation, the rumour refuses to go away.
The one-time shoo-in for UK prime minister has watched his poll ratings plummet on foot of a high-profile 'off the ball' tackle last week and football observers here say that 'Bojo' is exactly the kind of chancer required to make the FAI great again.
While Johnson has much in common with former CEO John Delaney – including an eye for spotting blonde talent – it is believed that the tubby Tory has a firmer grasp of the politics of the modern game, particularly in Europe.
Johnson would apparently "drag the FAI kicking and screaming into the 21st century and maybe jammy us a tournament qualification", said one anonymous supporter. "We are not going to do that inside the existing system."
Suggesting that the time for diplomacy has passed, the insider noted, "If we want to be strong players in Europe, we need to tell the bureaucrats in UEFA where they can stick their qualifying groups and seeding systems. That is fine for the big countries, like German and France, which have the whole thing sewn up. But for the Republic of Ireland, it's a case of drawing the short straw just because of our so-called piss poor 'rankings'.
"We have nothing to fear from Boris's bluster. After all, we have regularly crashed out at the group stage, deal or no deal."
---