ALTHOUGH IT would be some achievement, it looks like Stephen Vernon and Pat Gunne could well end up getting a bigger take out from Green Reit than the boys over in Cairn Homes and Glenveagh.
Unlike the latter two, where the huge returns depend totally on the share price performance, Vernon and Gunne set up their outside management contract structure wherein Green Reit pay out a huge wedge no matter what happens to the share price. To date Vernon and Gunne, together with their management team – Caroline McCarthy, Niall O'Buachalla, Paul Culhane, Mark Munroe, Ronan Webster and Jim McKenna – have taken out the best part of €100m from the company and this scheme could technically continue ad infinitum if somebody doesn't put a stop to it.
The management services company is Green Property Reit Venture DAC, which "identifies possible property acquisitions for, and opportunities with a view to investment by, the company by reference to the company's investment policy and strategy". It also has "discretionary authority to enter into transactions" for acquisitions or disposals up to €30m, only requiring board approval for larger transactions.
The one key function the board has is that it determines whether to renew the management agreement. The initial five-year term expired in July this year, but the board decided as far back as May 2017 – 14 months before it had to – to extend the management services agreement "on the same terms" for a further three years to July 2021.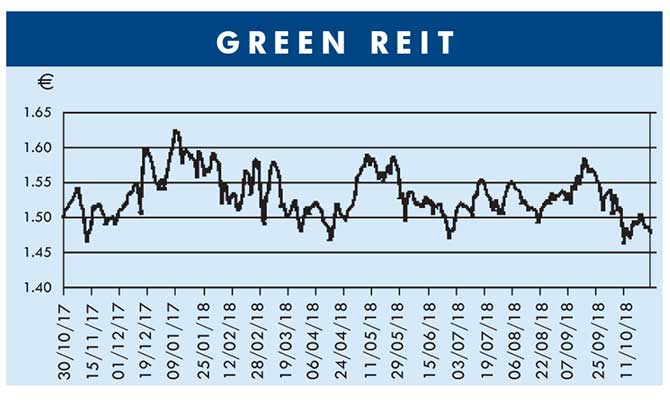 According to the investment management agreement, Vernon and the management team get a base fee of 1% pa of the net asset value, irrespective of how Green Reit does, which last year returned just on €11m. On top of this they get a "performance fee", which is essentially based on the team getting 20% of the annual increase in asset value above "a 10% annual return hurdle". Over the last two years, this has brought them just on €20m on top.
This rewarding scheme started in July 2013, when Green Reit was floated on the market and raised €300m, which was topped up by a further €400m placing in May 2014. As a result, the management team has earned a total of just on €45m from their base commission fee and €48m from performance fees – a total of just over €93m (with the base fee unrelated to any performance criteria).
One third of the board is made up of Green Reit founders Stephen Vernon and Pat Gunne, while the other four directors were appointed by the two boys. The four independent directors are led by chairman Gary Kennedy, ex-finance director of AIB; Jerome Kennedy, ex-managing partner of KPMG; Gary McGann, ex-CEO of Smurfit Kappa and now chairman of Aryzta and Paddy Power Betfair; and Rosheen McGuckian, CEO of NTR and previously with GE Money.
For what it is worth, Stephen Vernon has got the biggest slice (66%) of the near €93m taken out so far, just on €62m. Pat Gunne got 20%, which is just on €19m, with McCarthy, O'Buachalla, Culhane, Munroe and McKenna sharing the remaining near €13m.
It should be noted that Vernon, Gunne et al have certainly not done a spectacular job over the last five years, given what has happened to the property market over that period. They have increased the net asset value per share by 80% – a compound average increase of only 12%. When you consider that the share price is trading at €1.48, this means that over the last five years investors have only seen annualised growth of around 7% on a compound basis.
PORTFOLIO
The investment managers have managed to build up an impressive property portfolio in Green Reit. Although Vernon is chairman and a 66% shareholder in the management company, it is Pat Gunne who does most of the heavy lifting, backed up by Caroline McCarthy, the chief investment officer who previously worked with Gunne.
They started out modestly in 2013 with small investments like the Indo's printing press in Citywest (€4.2m). This was followed by Danske Bank's Project Arc sell-off in November 2013 for €127m, which includes 84-93 Mount Street D2 – a 50,000 sq ft office building leased to the OPW for €1.7m pa, as well as the 30,000 sq ft Fitzwilliam Hall in D2 and, significantly, the 150,000 sq ft Horizon Logistics Park beside Dublin Airport, with its undeveloped 100 acres.
They followed this with the 85,000 sq ft office block at 2 Burlington Road D4, leased out to AIB at €48 a sq ft.
In March 2014, Green Reit bought a further Danske Bank disposal for €22m, which included 32 Molesworth Street D2.
The portfolio only took on serious proportions in 2014 when Green bought a 50% share of the 700,000 sq ft Central Park development on Leopardstown Road in south County Dublin. The other shareholder, Pimco, was subsequently bought out at the beginning of 2016, leaving Central Park costing a huge €323m. Green has since developed a further office block of over 138,000 sq ft here at a build cost of €42m.
Central Park now consists of 850,000 sq ft of built office space with a further spec 60,000 sq ft block currently being built for €34m – a very high build cost of €355 per sq ft.
The next significant holding Vernon and the boys bought was the Sapphire Portfolio sold by Nama for €375m in October 2014, including the 151,000 sq ft George's Quay office development on the South Dublin Docks and the 120,000 sq ft Westend Retail Park in Blanchardstown.
DEVELOPMENT
In 2015 Green Reit ventured outside Dublin and bought the 164,000 sq ft Albert Quay office development in Cork, currently valued at €77m.
Within the Green portfolio, the team has done some development work and built a new 32,000 sq ft office block to replace 32 Molesworth St for a cost of €13m, letting the whole building out to Maples at €51.70 a sq ft to generate rent of €1.7m.
They did a similar exercise at the other end of Molesworth Street when they knocked down No 1 and built a new 70,000 sq ft block, with 37,000 sq ft of this rented out to Barclays Bank at €62 a sq ft. They got a larger €65 a sq ft by letting a further 30,000 sq ft to Goshawk Management and then got TD Global Finance to pay €70 a sq ft – a Dublin office rent record – for a further 10,000 sq ft here. The Ivy restaurant took 10,000 sq ft on the ground floor at a rent of €57.90 per sq ft, which means it is paying over €10,000 a week in rent. The smaller Le Pain cafe is paying €88 a sq ft, or €4,500 per week.
At 5 Harcourt Road D2, Green knocked and replaced the property with a more modern and larger 50,000 sq ft office block, which it has managed to rent out at €60 per sq ft to the big shared work space operator We Work at an annual rent of €3.1m.
At Horizon Logistics Park – the group's most sensible acquisition – Green Reit has built a new 82,000 sq ft warehouse for Kuehne and Nagel at a rent of €810,000, which works out at €9.60 a sq ft. It has also built two spec units on the park of 78,000 sq ft, with one of these let to Napier Couriers at €9.54 per sq ft for 34,000 sq ft. Green bought an initial 164 acres at Horizon in the preceding year and a further 134 acres last year, to bring the total holding here to 300 acres – making this a really significant strategic holding, currently valued at €87m.
Taking all the central Dublin business district buildings, these have a current value of €740m and, to some extent, are higher risk in that these all attract premium rents of over €60 per sq ft, counter balanced by the Central Park development where the average rent is €26 a sq ft. It would be sensible to dump all the high-rent office blocks and realise the €740m as it is hard to believe these rents can go higher.
Green Reit has responded to recent retail trends (driven by booming internet sales) by dumping virtually all of its secondary retail investments, selling off Parkway Retail Park in Limerick in March 2017 for €23m to realise a 64% gain over its €14m purchase price four years earlier.
In June this year, Green completed this rebalancing programme with the sale of the Westend Retail Park adjoining the Green Property-developed Blanchardstown Centre for €147m, representing a 55% capital gain.
Green Reit boasts that its "basic earnings per share" grew by 10% to 20.8c, but it nevertheless paid out 100% of its EPRA EPS of 5.3c (actual trading earnings), a quarter of the claimed basic earnings per share. The explanation for this anomaly is that, while the company made a pre-tax profit of €37m on its €1.4bn portfolio – a return on capital employed of a miserable 2.6% – the accounts include the €109m increase in value of the underlying property, which was an underperforming 8% last year. This increase in value is included in the accounts, with the claim that rather than the actual profit of €37m, Green Reit made €144m, a 10% return on capital.
Shareholders in Green Reit have little to cheer, with the shares at almost €1.50 trading at a significant 17% discount to the €1.80 asset value per share. If Stephen Vernon and Pat Gunne's lucrative reward scheme was related to share price performance rather than asset performance, they would have got nothing, with the share price languishing down at €1.50 having hit €1.65 at the beginning of 2015. Green Reit shares are now only attractive because of the significant 17% discount at €1.50 and the 3.5% gross dividend yield.
---
Reference the Market Abuse Regulations 2005, nothing published by Moneybags in this section is to be taken as a recommendation, either implicit or explicit, to buy or sell any of the shares mentioned.