THE SHAM elections held over the last week in Bahrain coincided with a report from the Irish section of human rights group Front Line Defenders (FLD). The group reported instances of sexual abuse of imprisoned dissidents and once more posed questions about the role of northern Irish agencies in Bahrain.
FLD won the United Nations Human Rights Prize for 2018, prompting a public letter of congratulations from President Michael D Higgins.
Earlier this month, Amnesty International condemned the confirmation of a life sentence on Bahraini opposition leader Sheikh Ali Salman, who had initially been acquitted of a trumped-up charge of spying for Qatar. Amnesty didn't mince its words: "This verdict is a travesty of justice that demonstrates the Bahraini authorities' relentless and unlawful efforts to silence any form of dissent."
Not only were all opposition groups banned from participating in the current elections, many of their leaders have also been imprisoned for the slightest hint of dissent.
FLD highlighted the case of Ebtisam Al-Saegh, who, it says, was physically and sexually assaulted by National Security Agency interrogators, who threatened to rape her if she didn't end her human rights work. FLD also publicised the case of its former protection co-ordinator Abdulhadi Al Khawaja, who was based in Dublin but is now serving a life sentence in Bahrain after the clamp down on the Arab Spring uprising there.
Bahrain's Shi'a majority (seen as pro-Iranian) have again been squashed by a repressive Sunni elite, aided and abetted by an MI6 and British Foreign Office strategy that seeks to raise Britain's influence in the region. There is no better illustration of this spook/diplomat strategy than Boris Johnson's 2016 declaration, as foreign minister, in Bahrain that Britain is now "back East of Suez".
DUP MP Jeffrey Donaldson's Causeway Institute has effectively helped to bolster that strategy in tandem with the Foreign Office and has provided a fig leaf of respectability for the Bahrain regime. The UK Foreign and Commonwealth Office (FCO) has spent over €5m on a programme of assistance to Bahrain for the declared purpose of assisting security and justice "reform". The cash came from the UK's Conflict, Security and Stability Fund, ostensibly designed for humanitarian relief.
Amongst the FCO's principal implementers in Bahrain were the NIO's Northern Ireland Cooperation Overseas (NI-CO), owned by Invest NI; the Stormont Development Agency; and the Causeway Institute for Peace-Building and Conflict Resolution.
Causeway is a private, Belfast-based company run by Donaldson and his brother, Kingsley (see The Phoenix, 10/8/18).
In 2016, the PSNI facilitated a (NI-CO) request to host a delegation of Bahraini police officers on a study visit to "observe globally recognised best practice in human-rights-based public-order policing", as the PSNI put it.
Jeffrey and Kingsley Donaldson have threatened legal action against the London human rights group Reprieve, after its report, Training Torturers, on the role of the Foreign Office and agencies like NI-CO and the Causeway Institute in Bahrain. Reprieve has since reiterated that it stands over its report.
---
FANCY THAT!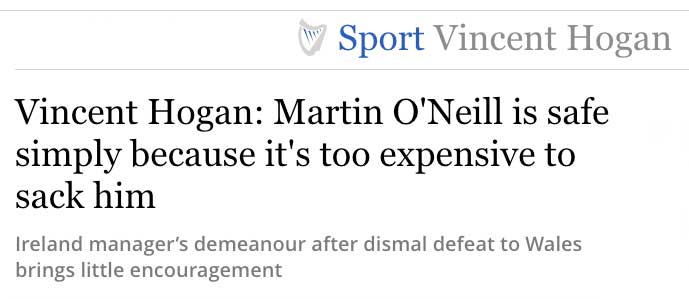 Irish Independent, October 18 2018
---