WHEN THE airline booking engine Datalex was last featured in Moneybags (see The Phoenix 21/4/17) – with the shares standing at €3.75 – this was noted as "a frothy rating … Major question marks hang over its accounting tactics which have significantly added to what looks like an overvaluation of the shares". Despite this assessment, Datalex shares later peaked at €4.15 last summer but there has been a reality check since then and in the second half of last year the shares collapsed by 30%. More worryingly, the company's bottom line continues to be boosted courtesy of accounting procedures.
The bulk of last year's share price fall occurred after an upbeat interim statement was issued on August 29, with the price even dipping under €3 at one point at which stage the company chairman, accountant Paschal Taggart, was selling a chunk of his holding (60,000 shares). The major shareholder in Datalex is Dermot Desmond, who has not bought or sold any shares for years but has sat on his 27% stake.
The activist investor, Nick Furlong – who runs Pageant Holdings – is the second largest holder in Datalex with a stake of just on 12%.
The only significant institutional investor in Datalex is the Chicago-based $3bn Kabouter Management investment fund. Its Irish holdings are pretty small beer, including a disclosable interest in IFG as well as a 6% stake in Datalex and UDG.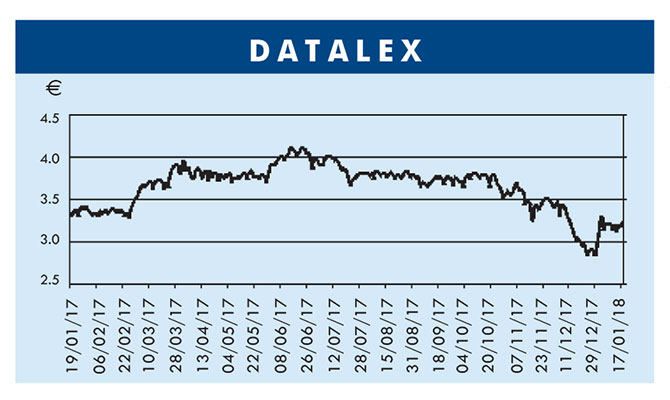 On any objective viewing, Datalex appears hugely overvalued even at its recently weakened share price of €3.20. At this level it is capitalised at E246m and valued at five times its E46m turnover, a whopping 47 times its own claimed earnings per share.
Even if Datalex's earnings base was completely solid and not subject to any accounting adjustments the current rating looks outrageous, unless the company was the likely subject of a takeover.
Dermot Desmond's 27% stake was worth E85m last summer and it is not often the Kaiser will find himself standing by as the value of his holding reduces by €25m. But if Desmond did attempt to sell any sizeable chunk of shares, it would really spook the market and Datalex shares could collapse. A takeout by a big software house wanting to get close to the 50 airlines on Datalex's books could of course make sense, although six years ago Datalex was already selling its booking engine software to 35 airlines and was capitalised at only €20m – but nobody swooped.
When Datalex shares were trading down €0.25 seven years ago, Moneybags identified the stock as "seriously undervalued" (see The Phoenix 22/4/2011). From that point the shares rocketed by 1,660% until they hit last summer's peak of €4.15. This was the best share performance of any stock in the whole market.
Datalex is a 30-year-old business set up out in Howth, north Co Dublin, in the 1980s and floated on the market by Neil Wilson at the height of the tech boom at the end of the 20th century, capitalised at a phenomenal IR£500m (€635m). Wilson then splashed the cash, seeking to significantly expand the minnow's share of the airline booking engine software market.
Neil Beck was brought in to rationalise the operation, which cost the best part of €300m. He was followed by Cormac Whelan, who arrived in 2004 with the backing of Taggart and Desmond.
The new chief executive dramatically changed Datalex's business model by switching from charging big upfront fees to a transactional fee based model. Datalex made serious progress, with Whelan increasing turnover from $26.8m in 2010 to $38m in 2013. It appeared that having spent $34m on developing Datalex's so-called TDP airline booking engine platform, this was essentially the finished product.
But after Whelan left in September 2012 and was replaced by Aidan Brogan, the latter surprised the market a year ago by confirming that his plan was to almost double Datalex's total staff by recruiting an additional 200 personnel. Brogan planned to move into other growth areas but it was obvious the company's booking engine programme platform was far from fully developed and needed significant further work.
One problem with developing a software company is how to treat research and development expenditure. Mature companies simply write this off as it is incurred and don't allow it to affect trading returns, whereas this is almost impossible for small evolving companies to do. Instead they capitalise R&D spending and then write it off over five- or 10-year periods.
A mature firm like Datalex that has been trading for well over 30 years should have a mature software platform, needing only moderate upgrading and care and maintenance spending that should be written off as it is incurred. If you apply this approach to Datalex's accounts, the figures look scary.
In 2015, for example, Datalex spent $6m on software product development work but only wrote off $4.5m and effectively boosted the bottom line by $1.5m. In 2016, as Brogan built up the software development team, the firm spent $9.2m on software development but only wrote off $5.3m and so "supercharged" the bottom line by just on $4m.
In the first half of last year, the situation had not improved at all, with $5.9m spent on software development and only $2.6m written off. This boosted the bottom line by $3.3m.
PROFIT & LOSS
Datalex claims to have made a pretax profit of $1.6m in the first half of the year to June 2017 but if you apply a full write-off of the ongoing development work, this would mean it actually lost $1.7m in the first half. And, applying the same logic to the first half of 2016, this would turn the recorded $1.3m pre-tax profit into a $700,000 loss. On a full R&D spending write-off basis, comparing the first half of 2017 year and the first half of the previous year, Datalex's "losses" have more than doubled in that period.
This is not to say that Brogan is doing a bad job. He has got Datalex more involved with Lufthansa by going live with the airline's Swiss International Air Lines subsidiary this year, also adding two new Chinese airlines – Changan and Tianjin Airlines – to the roster. These developments are significant and pushed up total revenue by 24% to $30m for the half year of 2017.
Additionally, Brogan has entered into a strategic partnership with IBM, which is now marketing Datalex's booking engine alongside IBM's cloud and cognitive technology offerings. Brogan advanced a similar type of arrangement with Neusoft, the largest IT services operation in China.
He also set up Datalex labs in Silicon Valley in partnership with Jet Blue Technology Ventures, wherein the two have developed an application programme interface for airlines to evaluate the product offerings and, presumably, then sign up with Datalex for its platform.
There is also a smaller new venture in Shannon, where Datalex is working with Boeing to offer a service to assist new start-up aviation and travel operations.
Brogan seems determined to push out on a number of fronts and despite the lack of profitability, this might be enough to satisfy shareholders. But can he keep telling investors that the future is what they are buying into when Datalex has been saying this for the past 30 years?
---
Reference the Market Abuse Regulations 2005, nothing published by Moneybags in this section is to be taken as a recommendation, either implicit or explicit, to buy or sell any of the shares mentioned.