IT IS an impressive feat that the biggest retail property investor in this country, Dundrum Town Centre (DTC) owner Hammerson, has successfully navigated its way through the pandemic, the migration to online shopping and the loss of its CEO (David Atkins in June 2020) and is looking at a big boost courtesy of the Irish housing boom. Despite the underwhelming management now in place, the shopping centre giant looks set to capitalise on a significant upturn in post-pandemic footfall, which suggests that its shares are currently significantly undervalued.
The old Dundrum Shopping Centre, which was built 50 years ago and now hosts only short-term lease tenants such as Lidl, looks set to be developed into a big 880-apartment scheme in the expensive part of Co Dublin. If planning permission is secured (the application was lodged earlier this year), this development site would fetch around €300m and significantly improve Hammerson's balance sheet, with hardly any loss of income.
Up the road, inside the existing 1.6-million sq ft DTC itself, the company has already been experimenting with a residential development called The Podium, a planned 107-apartment scheme behind the newly developed Donnybrook Fair food hall and restaurant operation, which opens on to Sandyford Road. The value could be maximised on this asset by selling these apartments off as a group to the private rental sector, with Hammerson probably looking to realise €37m.
An issue for the group is that its chairman since September 2020, Robert Noel, hasn't real relevant experience, given that his background is in the office property sector as CEO of the giant Land Securities Group (for eight years to 2020) and, before that, seven years as property director at Great Portland Estates – an industrial property developer.
Whatever about a chairman who is less than familiar with Hammerson's retail property business, it is of rather more concern when this is the case with the CEO, Rita-Rose Gagné, who has been in situ since November 2020. Her background is in investment and global property, having worked for big real-estate player Ivanhoé Cambridge, but what is missing is retail property experience.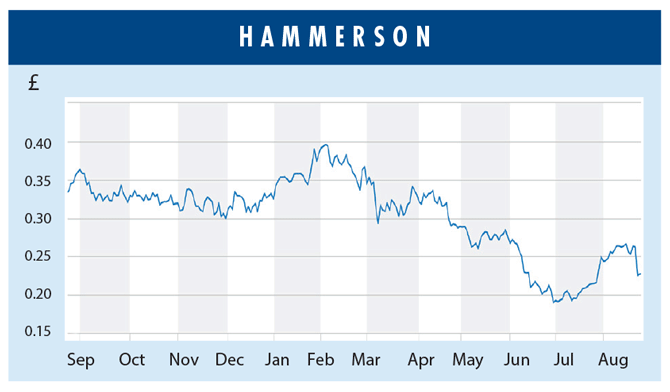 MODERNISER
Gagné see herself as a moderniser. When criticising the modus operandi of the previous management – David Atkins (CEO) and David Tyler (chairman) – in her 2021 review, Gagné advised: "Our organisation, culture and working practices were not forward looking and our organisational review identified the need to bring in new talent to change our operating model and our culture. We are now focused on new ways of working, agility, innovation and ultimately on driving performance."
The two Davids had actually done a pretty decent job and the fact that the group had to deal with Covid-19 in 2020 is no reason to undermine their performance. It is true that, at the top of the boom, Hammerson's share price had been riding high at £17 but that was back in 2007, before it imploded in the 2009 crash.
Gagné turns out to be a rather old-fashioned gal herself. She made no moves to take advantage of the stressed UK property market, with huge opportunities arising last year, in particular courtesy of the collapse of the largest UK shopping centre operator, Intu. That left all the latter's key outlets on the block at bargain-basement prices, including the biggest of them all, the huge Trafford Centre in Manchester.
Instead, the forward-looking Rita-Rose has been focusing on further de-leveraging Hammerson by selling off attractive complexes such as Victoria Gate and Victoria Quarter in Leeds for £120m (€140m) and the Silverburn centre in Glasgow for £70m. The disposals have driven down net borrowings to £1.6bn, resulting in gearing ratios of an overly modest 37%.
The CEO calls this "a disciplined disposal programme of non-core assets, refocusing the group on a portfolio of prime urban estates, reducing indebtedness and generating capital for redeployment".
The previous management had already done a lot of heavy lifting, having taken down net debt from £2.8bn in December 2019. In the half-year report to June 2022, Gagné highlights the fact that "footfall, sales, occupancy and collections are recovering and are now close to 2019 levels". This 'achievement' is obviously the natural result of coming out of a pandemic, with footfall as of June this year tracking 90% of the June 2019 figure. There is also no reason that rents would not be fully up to date in a recovered situation, but it represents a black mark that collections for Q3 2022, which were to be paid on June 25, only come to 84% of the due amount.
PERFORMANCE
Looking at Gagné's performance up close this side of the Irish Sea, in DTC all of the major moves were initiated by the previous management, with centre manager Don Nugent successfully achieving the full re-letting of the huge 120,000 sq ft House of Fraser unit to Brown Thomas – which has taken 60,000 sq ft in the two bottom floors – and Penneys, which swapped its 36,000 sq ft ground-floor unit for the 60,000 sq ft in the two upper floors. (Embarrassingly – and perhaps revealingly – Gagné refers to the new tenant as JC Penney.)
Nugent also got Donnybrook Fair to take on the development and extension of the old two-storey premises fronting on to Sandyford Road and got Paddy McKillen Jnr to develop the old Hamleys unit into a small bowling alley and restaurant.
It is difficult to see the fingerprints of Gagné anywhere here. She probably has driven the 107-apartment Podium development and has no doubt pushed the 880-apartment strategic application for the old Dundrum Shopping Centre site through to An Bord Pleanála, where a decision is now overdue.
STRATEGY
This latter scheme, the single most significant move the CEO has made, clearly deserves much fuller explanation to the shareholders. The strategy represents a complete reversal of what had previously been envisaged here, which was to build a further one-million sq ft retail space that would be connected by a bridge to DTC, creating a 2.6-million sq ft giant, helping to make Hammerson an even bigger global force.
A year ago, the company's revamped management team carried out a strategy review that concluded: "Fundamentally, Hammerson has a unique market position and considerable opportunities for future value creation."
In the 2021 annual report, Gagné expanded on this: "We set out a new strategic vision for the business at the half year, giving us a clear focus on a core portfolio of prime urban estates."
This does not appear to be the reality. Facilitating the redevelopment of the old Dundrum Shopping Centre into an apartment complex instead of hugely expanding Hammerson's retail presence may indeed help the group financially in the short term but hardly reflects anything close to a "vision".
Another Irish asset is the much smaller 500,000 sq ft Swords Pavilions shopping centre, with a rent roll of €13m pa compared to the €50m pa rent roll in Dundrum. While there are three significant centres in west Dublin – Tallaght, Liffey Valley and Blanchardstown – there is nothing really significant in north Dublin. Hammerson, therefore, has the opportunity to make something of a statement here, given that it already owns 18 acres adjoining its Swords operation.
Instead, there is little sign of activity and the centre could be said to suffer from development neglect, despite the huge level of housebuilding going on in north Co Dublin.
What is perhaps surprising, given the strategy in Dundrum, is that Gagné hasn't put aside say 13 of the 18 acres to develop 2,000 apartments. She wouldn't generate the same yield per unit as in Dundrum but would get €200,000 per apartment site to generate €400m for Hammerson. This would still leave five acres for the Pavilions shopping centre to add a further one-million sq ft of retail space alongside the apartments.
Elsewhere, it is difficult to know quite what the CEO is up to at the Ilac Centre and the adjoining five acres in the heart of Dublin city centre, which Joe O'Reilly and the late Liam Maye put together and was formerly known as the Carlton Site.
PIECEMEAL PLAN
Hammerson has the opportunity to demolish the basic 40-year-old single-storey centre (in which it has a 50% share) and incorporate it into a huge new development to create a two-million sq ft city centre retail colossus. Instead, Hammerson is tackling the project on a piecemeal basis and has received three separate planning permissions to date.
Separately, the group has a chunky £2bn still tied up in value retail villages such as the 320,000 sq ft operation outside Kildare Town. Some €65m was spent expanding this before the pandemic shutdown, adding 200,000 sq ft to bring it to the same scale as the other eight retail village centres in the group.
These outlets sell discounted clothing and shoes and represent a good property investment for the right company. These do not, however, fit into Gagné's so-called strategic vision, which is focused on "a core portfolio of prime urban estates". Oddly, the centres are dispersed all over the place, in markets where Hammerson has no other existing operations, with two in Spain (Barcelona and Madrid), one in Brussels, one in Milan and two in Germany (Frankfurt and Munich).
As these cannot be described as prime urban estates, logically Gagné should sell them off and recycle this £2bn into growing Hammerson significantly in the UK and Ireland.
Hammerson has shopping centres across the UK, such as the giant Bullring in Birmingham (where Marks & Spencer has taken over the former Debenhams store), the Eastgate centre in Leeds, Highcross in Leicester, Cabot Circus in Bristol, the Croydon Centre and Brent Cross in London, the Oracle in Reading, Union Square in Aberdeen, and Westquay in Southampton. There are also four big centres in France but Dundrum is the biggest of them all.
When it comes to property, the standard rules of business – whereby income and profit are the key factors – do not really apply. Rather, it is all about property values. Nevertheless, Hammerson had gross rental income of £242m last year, resulting in an operating profit of £138m after all costs.
There was, however, a property writedown of £458m, which means that over the last two years £2bn has been written off the £8.3bn at which the property portfolio stood in 2019. Values have bottomed out and by the end of June this year Hammerson's asset value per share had risen 2p to 62p – well over twice the current share price of 25p.
UNDERVALUED
Given this disparity, the shares are clearly undervalued and look likely to go only one way as all of its centres are rapidly recovering, with sales running above 2019 levels.
The two big institutional shareholders in Hammerson – Lighthouse Capital and APG Asset Management – are each sitting on 22% of the equity. Morgan Stanley increased its holding in 2021 by just on 50% to 9% but had disposed of it all by May this year, while the giant BlackRock group has acquired a 6.5% stake. Following the likes of BlackRock is unlikely to be a bad strategy, particularly when investors can buy into Hammerson today at over a 50% asset discount.
---