WHILE THE effects of the pandemic on businesses are starting to ease, some companies made great leaps forward over the last couple of years. One of these is hVivo (formerly Open Orphan), the Cathal Friel-backed contract research organisation. Despite the high price/earnings rating for the shares, they look to be heading in the right direction.
Open Orphan is a specialist contract research organisation which, with the acquisition of hVivo at the end of 2019 (and the subsequent name change from Open Orphan to hVivo), has developed into a leading tester of vaccines for infectious and respiratory diseases as well as of therapeutics using human challenge clinical trials.
The group provides end-to-end early clinical development services to a number of big pharma companies, which currently include four of the top 10 global biopharma businesses by scale.
The Covid-19 pandemic has significantly increased funding for research and development into infectious disease vaccine development, which has accelerated development in this area and has favoured hVivo, given its area of expertise in the fast-growing infectious diseases field.
Six months ahead of the hVivo acquisition, Friel had already bulked up Open Orphan with the acquisition via a reverse takeover of Tony Richardson's Venn Life Sciences business in mid-2019. This is considered a pioneer in human disease models based on viral challenge.
To an obvious extent, the sector in which hVivo operates is hugely risky and previously saw the collapse of Austin Darragh's Institute of Clinical Pharmacology (ICP) here after a death in one of ICP's human trials.
So far, under the direction of CEO Yamin 'Mo' Khan, hVivo has avoided any high-profile setbacks and today claims to be the world leader in focusing on human challenge studies. This "involves custom challenge agent manufacturing and characterisation followed by a human challenge trial", relating to a broad range of infectious and respiratory diseases, vaccines and therapies.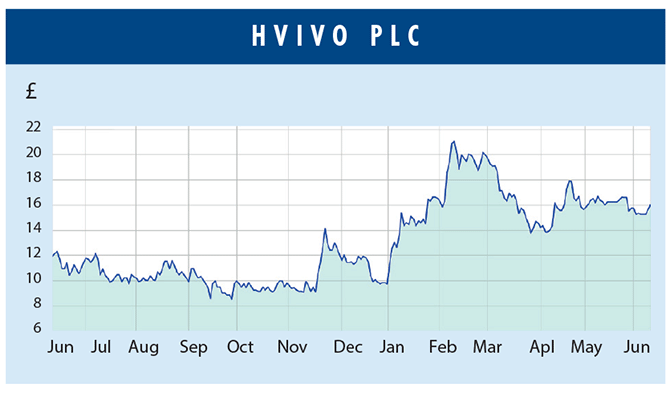 COLLABORATION
hVivo specialises in respiratory and infectious diseases including respiratory syncytial virus (RSV), ordinary flu, human rhinoviruses, as well as SARS-CoV-2, malaria, asthma and chronic obstructive pulmonary disease.
This is a burgeoning area of therapy and drug development and, in hVivo's annual report, Prof Peter Openshaw of Imperial College, London, is quoted as saying: "I think hVivo has been absolutely vital in global terms, in being able to drive these studies and work with academics to develop protocols that have enabled all of this science to have been discovered."
hVivo is currently working with Pfizer to develop the world's first RSV vaccine, which is expected to hit the market later this year, accelerated by the former's human challenge studies. These delivered positive results from the proof-of-concept phase 2A study evaluating the safety, immunogenicity and efficacy of a single dose in 120 human viral challenge tests in healthy adults.
There are 50 million people affected globally every year by RSV, resulting in four million hospitals admissions. In other words, this presents a potentially huge market for Pfizer.
The key to hVivo's success is not simply that it carries out these human challenge tests but is also due to the quality of its protocols – the company has a database of 250,000 potential volunteers who are very carefully screened for suitability for tests.
hVivo's specialist Flucamp recruitment operation contributed significantly to each field of recruiting successful candidates, involving psychological, physiological and generic screening programmes. In contrast, apparently "more than 80% of clinical trials in the US fail to meet their patient enrolment timelines", with patient recruitment issues accounting for a hefty 55% of cancelled clinical trials.
The track record of hVivo is impressive, with sales increasing from £22m in 2020 (when the pandemic kicked off) to £39m in 2021, an increase of 77%. Last year growth continued, with sales up a further 30% to £51m. Likewise, at the ebitda level, the group moved from a loss of £6m in 2020 to a profit of just on £3m in 2021 before tripling last year to just over £9m.
hVivo's contracted order book, meanwhile, was standing at £76m at the end of 2022 and the group is looking financially strong, with cash of over £28m.
What has been a critical driver of hVivo's progress are the results early last year of the world's first Covid-19 human challenge trial. The outcome here provided unique insight into the disease progression and it was also reassuring that the trial proved safe for the chosen healthy young adults who were engaged in the process.
The study was a strong endorsement of how human challenge trials should be able to accelerate drug development and these Covid-19 studies brought significant worldwide attention to hVivo.
The Venn Life Sciences early clinical drug development business also benefited greatly from cross-selling as a result of these human challenge trials. Venn landed its first big global pharma contract last year, which has enhanced its own creditability.
WRITE-OFFS
Although hVivo's record is impressive, the market has remained relatively unmoved, which may be difficult for investors to understand. It is true, however, that the group fully wrote off two non-core activities – the 63% interest in PrEP Biopharm and its 49% stake in Imutex. The effect of both these wind-downs was to write off £7m, thus pushing hVivo into a small loss.
This setback should not really put investors off and without the write-off, even after depreciation and amortisation, the group would have delivered pre-tax profits of over £6m. hVivo is nevertheless capitalised at £111m at its current share price of 16p, which leaves the shares on a very high p/e multiple, even on a normalised basis, of over 20 times.
If hVivo continues to develop at the rate it has over the last two years, then this rating actually looks justified. And, given Cathal Friel's impressive record, there is no reason to think he won't pull off another big takeout here.
---
Reference the Market Abuse Regulations 2005, nothing published by Moneybags in this section is to be taken as a recommendation, either implicit or explicit, to buy or sell any of the shares mentioned.