LAST MONTH'S US Supreme Court decision looks set to open up the market across the Atlantic to online gambling. This could prove a necessary shot in the arm for Paddy Power Betfair (PPB) which had been struggling over the last year, with its share price eroded by 25%. The challenges facing the giant betting operation problem are not just structural and the subject of strongly regulating online gambling has been gaining attention worldwide.The US news has kicked the group's shares back over the £90 mark and generated significant investor interest. The question is, how quick will the Yanks move?
In Britain the government has been increasingly imposing restrictions and levies on betting and is preparing to impose severe restrictions on the hugely lucrative FOBTs (fixed odds betting terminals, better known as one-armed bandits) in bookie shops, cutting the maximum bet allowed by 90%, down from £100 to £10. In Paddy Power's most rapidly growing market – Australia – gross sales levies are being introduced this year, with South Australia imposing 7% levies while Western Australia is imposing 15%. These are significant compared with the Irish government's 1% tax on betting turnover and could severely affect Paddy Power's margins Down Under.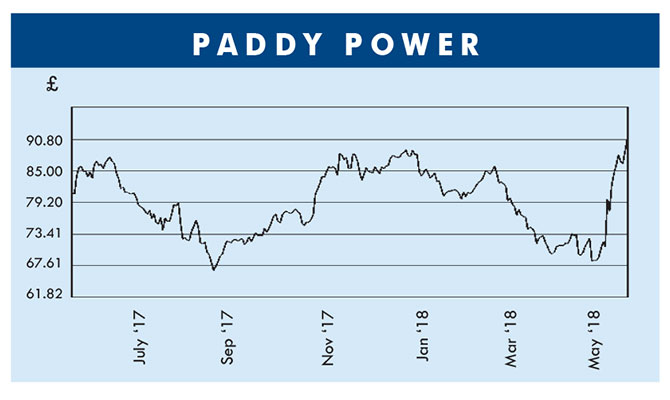 Meanwhile, the Betfair takeover is still causing a hangover. Chairman McGann did not lock chief executive Breon Corcoran into a minimum five-year employment contract alongside Corcoran's right-hand man, Alex Gersh. Corcoran and Gersh had been the key drivers of the Betfair business and the whole point of taking over Betfair was to acquire this team so they could run the entire Paddy Power business.
Corcoran left at the start of this year and is being followed out the door by finance director Gersh. The appointment of Peter Jackson as the new chief executive was confirmed last September but he only started the job on January 8 this year, which means Corcoran was paid for all of last year (£3.2m). a note on p81 of the annual report, however, confirms he will continue as an employee until August 10, 2018 and be paid his salary for that period. Gersh earned a package of £2m last year and presumably will get a nice little payoff this year when he officially leaves.
The man in the Paddy Power hot seat – Peter Jackson – has no direct management experience of betting other than as a board member at Betfair from April 2013. He does, however, have a fair amount of banking experience and worked for McKinsey management consultants and, immediately before joining Paddy Power, ran Worldpay – a digital payment platform.
The key issue in the UK and Ireland is what the group will do about its two brands: Paddy Power and Betfair.
In his review, Jackson advises: "Notwithstanding the limited product development over the last couple of years the performance of the Betfair brand has been good." In fact, it has been better than that and last year its sports book revenue grew 29%, whereas Paddy Power lost market share.
The main question has to be whether, in the enlarged merged entity, it is right to run a two-brand strategy and, if so, how will the new chief executive differentiate two brands doing the same thing? Jackson says: "We have identified opportunities to increase investment in the Paddy Power brand through above-the-line marketing and the customer value proposition."
Jackson says "product gaps for Paddy Power customers have partly been addressed by the platform integration with the app load time now 50% faster and much improved cash-out product driving significantly increased usage of cash-out by our customers."
Within the group, the main business remains the UK/Ireland online operations. With betting turnover here up 7% last year to £5.6bn, PPB benefited from unexpectedly good sporting outcomes such that punters' losing margin resulted in a 40 basis point increase in yield to a full 7%. This left the group's net sporting revenue up 8% to £660m but this fell away on the online gaming side, where revenue fell by 2% to £238. This left total net revenue up 5% to £898m but after a 14% increase in marketing costs to £223m, total operating costs rose 6% to £394m to leave PPB's underlying operating profit here up 5% at £268m.
As much as 88% of the bets placed in the group's European operation were in the UK and Ireland, with the whole European Paddy Power platform transferred onto the Betfair platform. In many European markets online betting is completely banned – as in France – but PPB has been making serious attempts to expand in the open Italian market, albeit with little success. The group has only a 3% share and Jackson has decided to abandon the Paddy Power brand here and consolidate all business in Italy under the Betfair brand name. In Spain, PPB has a 4% share of a relatively tiny market, while in the other open online markets in Europe – Bulgaria, Denmark, Malta and Romania – the group has a very small presence.
us decision
In the US the market is tiny due to the general ban on online betting. The US Supreme Court decision on May 14 will enable individual states to legislate for sports gambling and this could be a real game changer for PPB, with a potential £100bn market set to open up. There will be hurdles to overcome – in Nevada, for example, the online gambling ban is backed by Las Vegas casino operators who believe online gambling could hugely damage their business.
Paddy Power and Betfair have been trying to build a business base in the US with a small horseracing TV network and an online casino in New Jersey and only last year bought the early stage fantasy sports operator, Draft. But this is pretty small scale with total group sports revenue rising 13% to only £94m in 2017, while gaming revenue increased by 29% to £16m.
new tie-in
After all costs and a 78% increase in marketing spend to £34m last year, the operating loss last year was £5m, a disappointing outcome. The just announced tie-in with US fantasy sports site FanDuel (with seven million customers) could go a long way to opening the market to PPB.
While progress in continental Europe has been slow, the experience in far off Australia has been far more rewarding. Down Under – PPB bought into an existing operation – there is a more established betting culture, similar to that in the UK.
The amount of bets staked there last year rose 19% to £3.7bn and the punters' loss rate was up 20 basis points to 10.9%, well ahead of the 7% achieved in Britain.
As net revenue rose 21% to £404m and the increase in operating costs was kept down to 3%, there was a major increase in trading operating profits of 42% to £125m. This played a big role in PPB's jump in total group net revenue of 10% to £1.7bn, while operating profit before exceptionals returned a 21% rise to £392m. If exceptionals relating to the Paddy Power-Betfair merger are added back, operating profit drops to £250m.
Jackson did not identify any major shift in betting volume in the UK and Ireland away from High Street bookie shops to online, although this trend has been gaining extra momentum. The 260 Irish shops are doing well, with revenue up 8% last year and the Irish shops running an average turnover of €5m and making close on €100,000 per shop, to return €26m profit last year. But the 366 UK shops, while increasing revenue by 11%, only turned over an average £3m, resulting in an average loss of £172,000 per shops.
What has kept the UK shops open is that each is allowed to operate two one-armed bandits, which last year earned £106m for PPB, an average of just on £300,000 per shop. If the proposed new legislation drops the maximum bet to £2 as has been floated, this would clearly have a major impact across the Irish Sea. On this topic, Jackson merely notes that PPB will "continue to invest in extending the leadership position ahead of regulatory change".
With the regulatory background looking more challenging and increased taxes coming down the tracks, the UK business for PPB is under pressure and in Ireland the 1% levy is beginning to look out of line. In Australia, the Western Australian government has introduced a betting tax of 15%, while other states have announced their intention to introduce a similar tax. Given this backdrop, the good news from across the Atlantic looks like a godsend for Peter Jackson and Gary McGann.
Paddy Power's shares had fallen from a merger-induced peak of €137 in February 2016 to under €80 just before the US Supreme Court decision, which has resulted in the shares jumping 28% to over €103. With underlying earnings per share at €4.80, the shares are trading at just over a 22 times price-earnings multiple. If the US states start allowing online sports betting, then this relatively high rating could well be justified but Jackson will want the Yanks to get a move on. Clearly, in a fast changing gambling regulatory environment the Yankee dollar is key to Paddy Power Betfair's success.
---
Reference the Market Abuse Regulations 2005, nothing published by Moneybags in this section is to be taken as a recommendation, either implicit or explicit, to buy or sell any of the shares mentioned.