TAKING ADVANTAGE of the recent collapse in CRH's share price, the arrival on the share register last month of the largest activist fund in Europe – the Stockholm-based Cevian (which picked up a 3% stake for €600m) – caused excitement in Dublin, but wrong-footed the Irish group's CEO, Albert Manifold. Given his huge remuneration and assorted missteps, notably in Asia, the CEO will want to up his game. A spin-out of the US operation could therefore be on the cards.
Cevian has built up a €20bn fund that mainly targets conglomerates, seeking to force through short-term, value-enhancing actions like the disposal of underperforming units, spinning off high-performing units, gearing up the balance sheet and distributing proceeds to shareholders. Ironically, Manifold has focused his energies on both rationalising CRH's excessive spread and building up its core heavyside building materials businesses.
Manifold's record is impressive and he has realised over €5bn from divestments during his five years at the helm, with €3bn of this realised last year alone (mainly from the €2.4bn sell-off of the group's American distribution business in January 2018 and the €500m disposal of its Benelux DIY retailing business).
On the acquisition side, Manifold has made even greater headway, having lashed out as much as €13bn – the single largest bite being the €6.5bn heavyside materials acquisition from the Lafarge Holcim forced disposal. The other significant elements were the €2bn American glazing systems acquisition three years ago and, last year, the €3bn purchase of the American Ash Grove cement company, making CRH the fifth-largest cement manufacturer in the US. On top of this, Manifold is looking at a €2bn disposal of CRH's European distribution business.
Moreover, the CEO has turned in record returns, earning operating profits last year of €2.2bn on sales of just on €27bn, to return trading margins of just over 8%. His plan is to get returns above 10% over the next three years – a hugely challenging task given that current margins are in line with the sector norms for heavyside building material producers.
Cevian, however, believes that more can be done and done faster.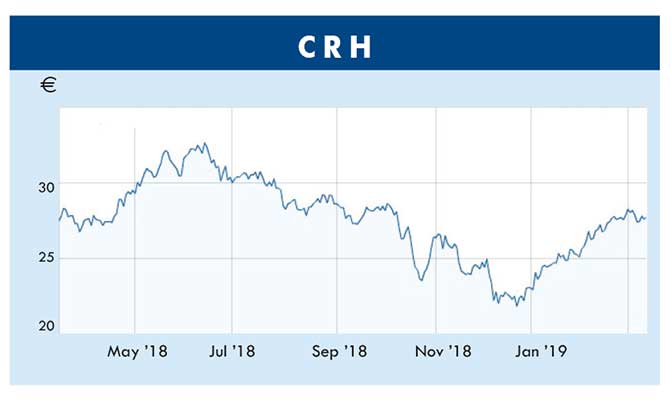 Fans of Moneybags will be aware that The Phoenix has often questioned the spread of CRH's activities – from quarrying billions of tonnes of sand and gravel and producing tens of millions tonnes of tarmac and cement to installing retail shop shutters and awnings, as well as providing 'perimeter protection' (ie fencing), mainly in The Netherlands. It could be that this latter Dutch business has huge potential, but it has no place inside CRH and should at least be spun out as a separately quoted vehicle with dedicated management.
It is clear that Manifold has got it wrong in Asia, where CRH's only major wholly owned operations are in the Philippines, where it is the second-largest cement producer. The returns have been awful, with these collapsing in 2017 and, even worse, going into the red last year, with CRH dropping €14m on sales of €431m.
Manifold unconvincingly claimed that this outturn was "due to higher fuel and power costs".
It is difficult to get a handle on CRH's Chinese interests, which are held through a minority 26% stake in the Yatai building materials group, the leading cement producer in north east China. In India, CRH has a 50% joint venture with My Homes Industries, the leading cement producer in the south of the country.
Both of these interests receive only very small notes in CRH's accounts and are not clearly broken out separately. The Chinese operation is thrown into CRH's associates and, while Yatai is reported as producing 32 million tonnes of cement, based on CRH accounts its sales are running at only €3bn, with the operating profit working out at just €4 per tonne, to leave CRH with a tiny net profit of €22m.
The Indian operation is lumped into CRH's joint ventures but, assuming it represents the vast bulk of these, India is only turning over €1.2bn. While it appears to charge over €100 a tonne for cement, it made an operating profit of €100m or €10 a tonne – which is rather better than in China – to leave CRH with a net after-tax attributive profit of €43m.
Together, China and India contributed €65m in the 2017 accounts and last year turned in only an attributable €60m. Between these two giant markets, CRH only earned €46m last year, almost irrelevant in the context of the full group.
Maybe it is understandable that Manifold hasn't got the time to focus on the Philippines, China and India given his workload bedding down CRH's huge US business as well as the demands of the huge European division. Nevertheless, he has clearly significantly underperformed in the Philippines, which will be difficult to defend to the Swedes, who will looking for weak spots. Cevian is well capable of mustering support among CRH's big institutional shareholders to force action.
What is surprising is the different way CRH chairman Nicky Hartery and Albert Manifold treated the mess in the Philippines, where CRH has by far its largest cement operation, producing seven million tonnes pa. Hartery ignored the matter completely, although in 2017 sales fell 14% to €136m and operating profits fell a whopping 79% to €15m, to return tiny trading margins of 3.4%. It was selling cement for €72 a tonne, well under the €94 a tonne its Chinese associates get and the €100 a tonne its Indian partnership charges.
Collapse
At the time, Manifold said, "We continue to take a long-term view in relation to the Philippines, where a challenging pricing environment existed throughout 2017."
Last year, there was a further collapse, with the Philippines turning in an operating loss of €14m.
Instead of highlighting the debacle and announcing a rescue plan, Manifold merely noted, "Against a backdrop of strong domestic demand and the accelerating government infrastructure spend, the Philippine economy continued to perform against inflationary pressures. However, the resulting volumes in price progress was more than offset by cost increases, particularly energy." He made no reference to CRH's losses there or a strategy to deal with them. This is unacceptable.
Having bedded in the big 2015 acquisitions, the 2016 accounts revealed a doubling of operating profits to €2bn, with trading margins up a significant 253 basis points to 7.48%. It looked then like Manifold lost momentum although, if anything, he should have got more aggressive and sought a major acquisition of something like the mid-sized Cemex group, given how relatively small CRH remained in the cement business worldwide.
Most surprising has been the big €2.4bn sale of the whole of CRH's American distribution business. This was performing well, trading across 31 states and employing 3,900 staff. In the two years to 2017 it grew operating profits by 29% to €143m and there appeared to be no reason why it should be sold. Manifold says the group opted to "reallocate capital to higher growth markets". This doesn't really make sense and, if Manifold believes the US distribution business was non-core or the money on the table was too good to turn down, he should have said that.
Having sold its US distribution business, Manifold had to admit that CRH is considering doing the same with its much larger European distribution business. He has already sold off the Belgian and Dutch DIY Superstore operation for a very attractive €500m, but CRH is still sitting on the DIY operations in Germany and Portugal.
This European distribution group had been doing well. With a chain of 650 depots employing 11,000 staff, it achieved sales of over €4bn in 2016 when it returned operating profits of €207m and trading margins of 5% – 100 basis points below its US returns. Last year, however, there was a dramatic fall-off.
When adjusted for the Benelux DIY sell-off, sales of €3.9bn were little changed but operating profits collapsed by 46% to €112m to return sub-normal 2.9% trading margins. Manifold advised simply, "Europe distribution had a mixed performance with ongoing positive momentum in the Netherlands, particularly in residential construction, partially offset by first-half challenges in Switzerland and Belgium." This is an odd way to describe a 46% profit collapse.
In 2018, despite setbacks in Asia and CRH's European distribution business, Manifold reported a 6% increase in total sales to just on €27bn and a somewhat less-encouraging 4% increase in operating profit to €2.2bn, to return overall group trading margins down slightly to 8%. Significantly, America, represents 50% (€13.4bn) of total group sales, although its operating profit contribution of €1.46bn represents 67% of total group operating profits.
CRH shares topped out at €34 in May 2017, but fell to just under €22 before Christmas last year. The shares have since recovered somewhat to €27, but the overall slide gave Cevian the chance to buy in. At this level, the shares are trading on a price/earnings multiple of nearly 16, with the whole group capitalised at €2.72bn. When you take into account CRH's net borrowings, this gives the whole group a total enterprise value of almost €30bn.
If the US business was spun off on a 20-times multiple, it would give shareholders a €30bn return (based on the near €1.5bn operating profits last year), which would equate to slightly more than the group's current total enterprise valuation. Shareholders would be left sitting on the European and Asian business for nothing, even though these currently make a total operating profit of just on €700m and are probably worth a further €10bn. No doubt Christer Gardell and Lars Forberg in Cevian understand this scenario all too well, even if Manifold doesn't.
Manifold walked into trouble at the last AGM, with 40% of the votes cast against his total remuneration package of €10m over two years. The CEO's wedge dropped to a mere €8m last year but, given the problems he has overseen in the European distribution division and the Philippines, this could look a bit rich for the shareholders' blood.
---
Reference the Market Abuse Regulations 2005, nothing published by Moneybags in this section is to be taken as a recommendation, either implicit or explicit, to buy or sell any of the shares mentioned.