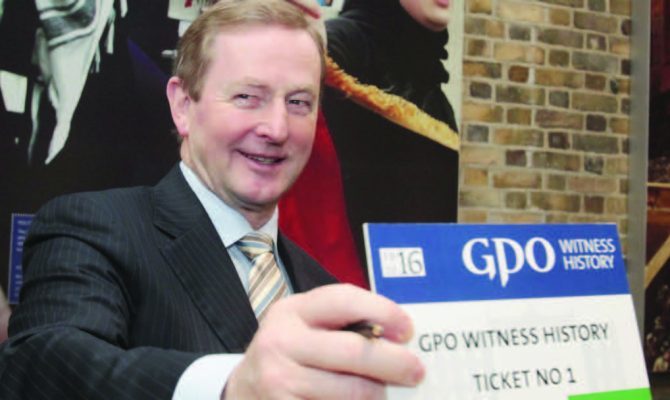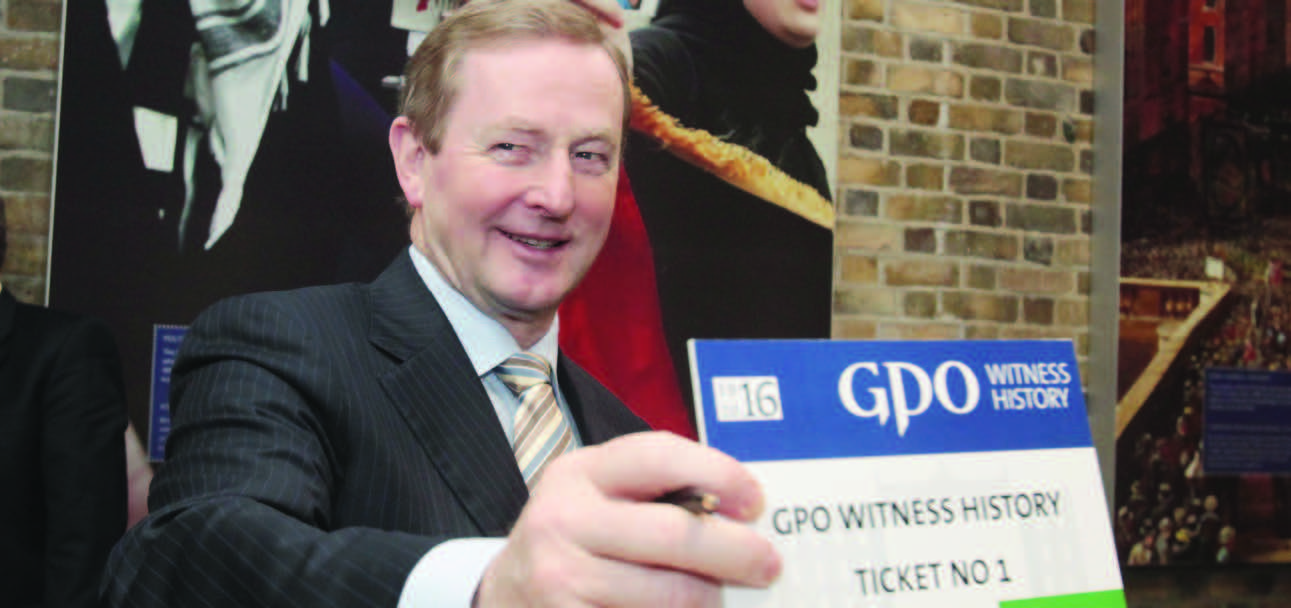 Scene 1: The Easter Rising commemorations, Dublin. Heavily disguised, and using "back channels", negotiators from Fianna Fáil and Fine Gael open talks about talks.
Man dressed as Countess Markievicz (actually Simon Harris): Psst! You there! Flag bearer in 1916 uniform.
Flag Bearer (actually Barry Cowen): Is that you Simon? Wow. You make a very convincing countess. But what's wrong with your nose?
Harris: Nothing. I just have to hold it when I'm talking to you guys.
Cowen: The feeling's mutual, Simon. That's why I brought a pole. It's extendible to 40 foot – in case I have to touch you.
Harris: OK. Enough of the insults. Are the soldiers of destiny ready to deal yet?
Cowen: Not quite yet, I'm afraid. The front bench accepts it's inevitable, but the grassroots still haven't forgiven ye for certain things.
Harris: Like what? Austerity?
Cowen: No – selling out the Republic in 1921. They're still dealing with that.
Harris: Jesus! How long more do they need, realistically? Or are we wasting our time.
Cowen: Don't worry. We'll make them an offer they can't refuse. But it'll take another month or so.
Harris: A month? That's a lot of time for us to be pretending to hold constructive talks with the Independents. Although we do need a back-up deal with them too. In case you bastards try to cut and run early on us.
Cowen: Yeah. Same for us with ye.
Harris: So I can report back to HQ that you're making progress towards talks, however slowly. And we'll meet again in, say, two weeks?
Cowen: Agreed. I'll bring a shorter pole next time.
---
Scene 2: Grand National Day, Fairyhouse. After another big win for Michael O'Leary's Gigginstown Stud, the Taoiseach presents the trophies and poses for photographs.
Enda Kenny (to the winning jockey): Well done young man. That was a bit close for comfort, I'd say.
Jockey: It was tight alright, (he slaps the horse's neck, affectionately), but in fairness, this lad gave me a great ride.
Kenny (nodding towards Michael O'Leary): It was more comfortable than a ride with Ryanair, that's for sure. You had no shortage of leg room at least.
O'Leary: Gee, thanks Enda. I'll really miss your wit this time next year, when the new Taoiseach – Leo Varadkar or whoever – is giving me the trophy.
Kenny: Don't write me off yet, Michael – you might be surprised. (He strokes the horse's nose). But well done you too, big fella.
Horse: Neigh!
Kenny: Ha, ha – I hear that a lot in politics. Fair play to you: you may be only a dumb animal, but at least you always respond to the whip – unlike some of my backbenchers.
Horse: Who are you calling dumb? I'm not the one who had a booming economy and a hopelessly fragmented opposition and still managed to the lose the election.
O'Leary: There you have it. Straight from the horse's mouth.
---
Scene 3: The Aviva Stadium. During a break in the Leinster v Munster rugby match, Leo Varadkar discusses political developments with fellow Fine Gael TD Eoghan Murphy.
Murphy: So I'm hearing the Sindo have a poll tomorrow saying 39 per cent of the electorate want Meehole as Taoiseach, compared with only 17 for our man?
Varadkar: Yeah – like, ouch! But what can we do? If only the party had a younger, more dynamic leader.
Murphy: So when are making your move?
Varadkar: Oh, there's no rush. I gather that Enda's unpopularity with Fine Gael is more than offset by the secret affection Fianna Fáil have for him. They consider him a potential asset, understandably enough. So while publicly calling for his head, they'd quite like to keep him there in any FG-FF arrangement, as rotating Taoiseach or whatever.
Murphy: And what? You want to keep him there too?
Varadkar: Well, I think I'd like him to be the one who leads us into what's sure to be a bad experience sharing power with the soldiers. Then maybe, when Meehole thinks he has us where he wants us, we could arrange for Enda's departure. I'll have positioned myself as the anti-FF wing of the Cabinet. So after reluctantly agreeing to become leader, I'll be the one to rescue the party from the mess Enda led it into, just in time for the historic 2018 election.
Murphy: God, You have it all worked out.
Varadkar: Or alternatively, I might be persuaded to shaft Enda next week and have done with it. I'm pretty flexible, really. That's what being Minister for Health teaches you, if nothing else. You make things up as you go along.
---
Scene 4: Glasnevin Cemetery. After the unveiling of the 1916 memorial wall, the acting Taoiseach meets a former one.
Bertie Ahern: Well, have you seen de writin' on it yet?
Enda Kenny: On what?
Ahern: On de wall.
Kenny: You mean the 488 names of the 1916 dead?
Ahern: No, I mean the bit dat predicts your immigrant demise.
Kenny: "Imminent" demise, I think you mean.
Ahern: So you did see it. I was wondering was it just me – I have a sixt sense for dat sort of ting.
Kenny (lowering his voice and leaning in): Speaking of which, what does your sixth sense say about this so-called Panama Papers stuff? I'm hearing a lot about an office in Drumcondra?
Ahern: Dat's a pure coincidence – nuttin to do wit me. But, eh, I hear your pal Frank Flannery is mentioned in dispatches.
Kenny: Really? Not that he is a pal of mine, anymore.
Ahern: Whatever you say.
Kenny: I mean, he used to be our election strategist, once upon a time. But as you know, we didn't use him on this occasion, for better or worse.
Ahern: Might turn out to be for better.
Kenny: And we were never that close anyway.
Ahern: Fair enough. (He looks around, ostentatiously) But what was dat strange farmyard sound?
Kenny: What sound?
Ahern: I taut I heard a cock crow dere – de turd time ye said ye didn't know Flannery. But maybe I imagined it.