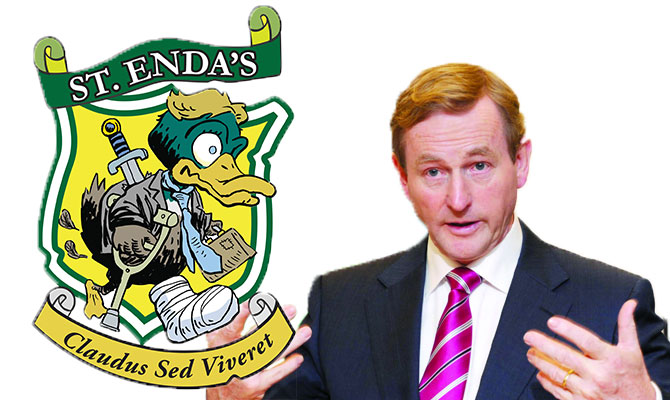 A message from the principal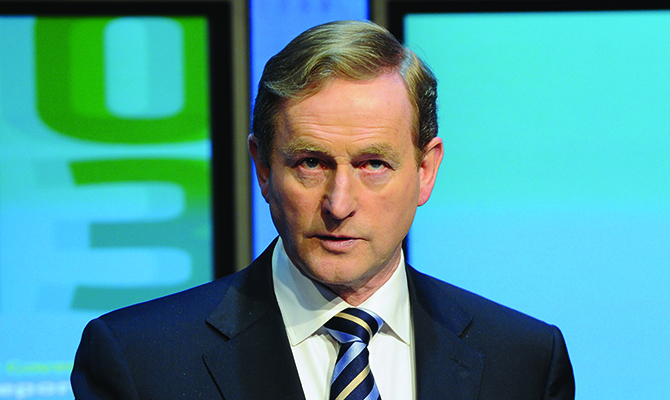 I write this on the plane home from Davos, where as usual I have been working hard on St Enda's behalf, attending an exhausting series of champagne receptions with potential school donors.
But I did also manage to get out on the piste (if you'll excuse my Swiss) a bit too, and it gave me some important insights into the challenges facing our campus in the volatile months and years ahead.
Being school principal is a bit like skiing when you think about it (and not because, as Leo likes to joke, it's been "all downhill" since I took over). As with most leadership roles, there are slippery slopes and hidden crevices everywhere around you, so that any misstep can be hazardous.
Just ask Miss Foster, for example, who was attempting a "snow job" – as it's known in the PR trade – on her school's heating scandal until recently, and looked like getting away with it until the ground melted under her last week.
Or ask Mrs May, who was already on thin ice before her latest embarrassment, but has now made a severe dent (or should I say a "trident"?) in it. No doubt some journalists have already called that incident "Tridentgate", just as Miss Foster's embarrassment has probably been christened "Pelletgate", or something similar.
But like Olympic slalomers, the best leaders are adept at avoiding gates (except Bill, of course, who was in Davos too). And this is where my legendary ability to twist and turn, and change direction at very short notice has always set me apart.
That was my message to the London bankers I was wining and dining at the conference. I stressed the stability that, in these unpredictable times, they and other investors would expect in St Enda's if they wanted to move their money, staff, or indeed children here.
The reason other leaders run into gates, I explained, still using my slalom analogy, was bad technique. Sometimes they were just too upright, I said. But this was not a problem at St Enda's. As anybody who does business with us knows, we can be endlessly flexible.
Emergency work on Neighbours' orchard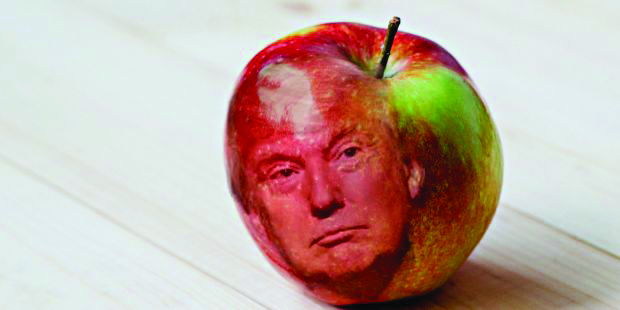 Students are advised to avoid the area of our campus adjoining the neighbours' apple orchard, where emergency works are under way. The project will involve extensive tree surgery and may also include the erection of a giant wind turbine on our side of the fence.
The action follows a change of ownership of the land, which now belongs to a vulgar but very rich New Yorker who objects to the fact that, although all the trees grow on his side of the fence, most of the apples fall on ours.
Alas, the work now probably means an end to the annual windfall. The trees will instead be forcibly trained to shed their fruit on the other side of the fence instead, with the turbine used as emergency back-up if necessary.
The Fire at Stormont Academy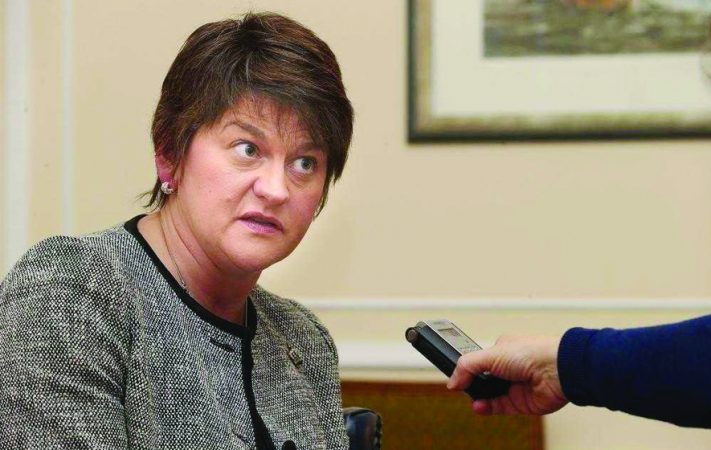 As you will all know by now, there was a serious fire at our small neighbouring school, Stormont Academy, last week, as a result of which the assembly hall has collapsed.
Luckily there were no serious injuries, even though the blaze started while Miss Foster was leading teachers and students in a mass rendition of the school hymn, Sheep May Safely Graze.
She bravely continued to sing even after smoke began rising around her ankles, and insisted there was nothing to worry about, causing some students to respond with a version of the popular football chant: "Arlene's on fire. Her defence is preposterous."
Eventually, however, the alarm was raised and the assembly hall evacuated without injury, except for Mr McGuinness, the deputy first principal, who suffered smoke inhalation while attempting to retrieve his dignity from the building. He has since decided to take early retirement, while undergoing medical treatment.
In the meantime, under school rules, there has to be a new election for principal. Failing agreement on that, the school will spend the foreseeable future being taught directly from London, via a special programme for slow learners.
The origins of the fire have been traced to several hundred wood pellet burners that had been installed under the assembly hall while nobody was looking. A number of teachers' relatives are helping police with their inquiries.
Explosion in Teresian School Explained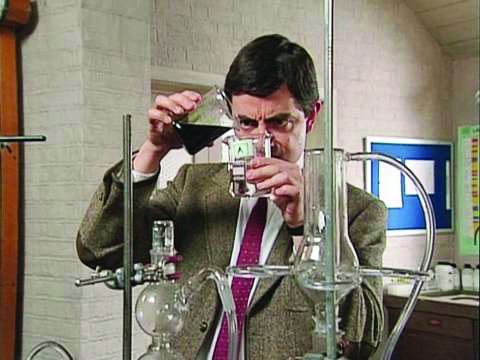 The mystery explosion that many of us heard from the direction of the Teresian College before Christmas was a science experiment gone wrong, it has emerged.
What was supposed to be a routine procedure, involving a small amount of volatile material and a Bunsen burner, became instead an accidental rocket launch, which tore a hole in the wall of the school laboratory and then briefly threatened to cause a diplomatic incident by appearing to target the nearby US embassy.
Invoking a Code Red emergency, the Americans were preparing a counter strike that would have obliterated the Teresian campus. But in the event, the rocket fell harmlessly into a pond and a crisis was narrowly averted.
The incident is a major embarrassment for the new Teresian principal who initially tried to cover it up by posing for photographs in the gap of the laboratory wall and describing the damage as "controlled demolition work" for a new extension.
This led to headlines in the local media about Mrs May "talking through her hole". She has now been forced to come clean on the incident at an already sensitive time, when her school is leaving the European schools network and applying to become the 51st member of the US state school alliance instead.
Mrs May is expected to hold talks this week in Washington, or possibly Moscow, depending on which way the plane takes off.
---