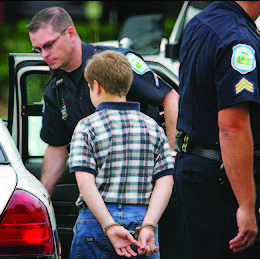 BUSTED: Children are already learning their rights off by heart and practising the lyrics to NWA's 'F**k the Police'
by Anna Stethic and Cal Pol
IN AN innovative development in the industrial disputes affecting teachers and the gardaí, both the Association of Garda Sergeants and Inspectors (AGSI) and Association of Secondary Teachers in Ireland (ASTI) have agreed that gardaí and teachers will do each other's jobs during strike days. This means they will be able to withdraw their labour – but not lose their pay!
The gardaí (to be known as Geachers) will supervise secondary school classes, set up corridor-blocks to check for alcohol and drugs abuse and generally "teach the kids a lesson they will never forget", according to senior crime and security correspondents. "They'll bate the shite of them. It'll be just like the old days," said the principal of one Christian Brother school. Every day will be non-uniform day. They will also be entitled to three months holidays."
For their part, teachers (to be known as Tardaí) will patrol the streets, lecture people who they find breaking the law and cancel their friends parking tickets. They will also be permitted to work as bouncers in nightclubs and to marry nurses.
---
ASTI PLAYLIST