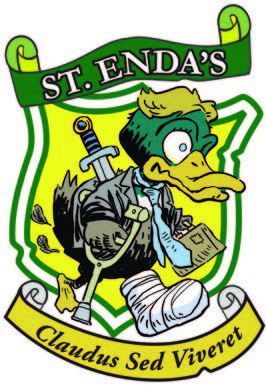 A Message from the Principal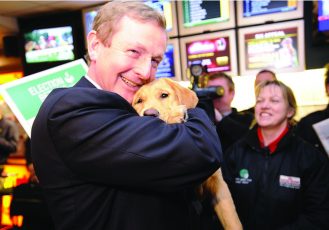 A dog is not just for Christmas, as we all know. But although that's normally a warning issued to those planning to buy puppies as presents, it can sometimes apply to old dogs too.
I know, because I am such an old dog. And for a while now, I've been unable to avoid overhearing discussions from my "owners" (ie the Board of Management) about the possibility of getting rid of me in the new year and replacing me with something younger.
In a way, I can understand the temptation. You visit a dog shelter somewhere and you see a little pup with big imploring eyes and a cute name (probably "Leo") looking back at you. Everything about him says: "Pick me! Pick me!" So of course you're tempted
Or you see a lovable mongrel, called Simon, let's say. He's part-Greystones – I mean, greyhound – part-Corgi (as in Contae Corcaigh) and you find yourself wondering how he might turn out eventually, given proper nourishment and regular worm doses.
Or maybe it's a well-bred bitch you're tempted by: a bit more mature than the others, perhaps, but different from anything the other families in your neighbourhood have, and with a posh name (eg Frances) to boot.
Then you look at your faithful, trusty old pal, Enda: a Mayo Blue (a bit like a Kerry Blue, only a rarer breed and with a distinctive blue coat). And you think, well, we're going to lose him sooner or later. Why don't we put him down now, humanely, before it gets messy?
But then you look closer (I hope), and you notice that despite his age, Enda still has remarkably few grey hairs. He has no flies on him yet, either. He can still bark when necessary.
And look at those teeth: he may not have used them much lately, but there's plenty of bite left in them if unwary postmen, gardaí, or other uniformed public service intruders come wandering up the (Lansdowne) road in the near future, as they surely will, looking for money.
Now, suddenly, the cute mongrels or well-bred britches don't look quite so good anymore. You're probably thinking instead: there's life in the old dog yet. And you're right.
That's why, if anyone asks, the principal is now letting it be known that he's not going anywhere in the new year, or the year after that. Maybe come 2018, when he'll be nearly 70 (in human years), he'll think about retirement. Or maybe not.
In the meantime, his message to everyone is: "Wuff, Wuff" (or in English, "Happy Christmas").
Nothing Suspicious about Cycling Club's Lotto Win
Congratulations to the local cycling club on scooping €20,000 in the St Enda's annual lottery last week. By a happy chance, the club's membership includes our principal. And the result was doubly coincidental, because who should have picked out the winning ticket only Mr Kenny himself!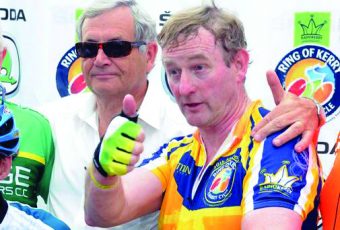 As he commented on this turn of events: "What were the chances?" But as he quickly added, before the maths teacher could say anything: "That was a rhetorical question, Mr Noonan – no need to answer."
Go Mairead!
All at St Enda's wish the best of luck to our former teacher-turned-Eurocrat, Mairead McGuinness, who has declared her candidacy for some big job or other out in Brussels. We have no doubt she'll win. But either way, Mairead is an inspiring example of how, if you have the right attitude, a disadvantaged background should not hold you back in life.
Stricken since birth with an Ardee accent, she suffered another potentially crippling blow in her early 30s when an addiction to publicity led her to become presenter of RTÉ's Celebrity Farm.  Recovery from the experience necessitated months of trauma counselling – and that was just for viewers.
But she somehow put this embarrassment behind her, first to become a highly-respected agricultural science teacher at St Enda's, where she was voted "staff member most likely to gut you if you get in her way". After that, she moved to the continent, where she has become extraordinarily popular with those who don't speak English as a first language and therefore have no idea how annoying she sounds.
Visit from Miss Sturgeon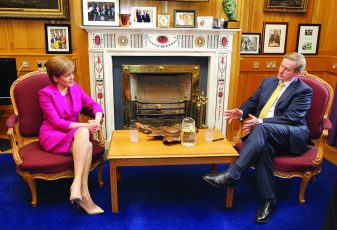 A big thank you to Miss Sturgeon, principal of our neighbouring St Andrew's Academy, for her very interesting address to the general assembly this week. As you'll be aware, St Andrew's is the junior feeder school for the Teresian College, now in the process of going private. It's officially located on Teresian property, although this is now the subject of some dispute.
So it was useful to hear Miss Sturgeon's perspective on the two schools' differences and how they might impinge on St Enda's. As outlined to the assembly, her plans include rebuilding the traditional boundary wall ("Hadrian's") between her school and Ms May's; asserting ownership of the oil tanks, currently on St Andrew's territory: and making haggis a compulsory part of the school-lunch menu.
In his responding remarks, Mr Kenny said it was clear to him that the Teresians' planned exit of the public system could not happen within the two-year timeframe its exponents demanded. In the meantime, he assured Miss Sturgeon of his assistance in matters of common interest, such as their joint desire to shaft Ms May as thoroughly as possible at every turn.