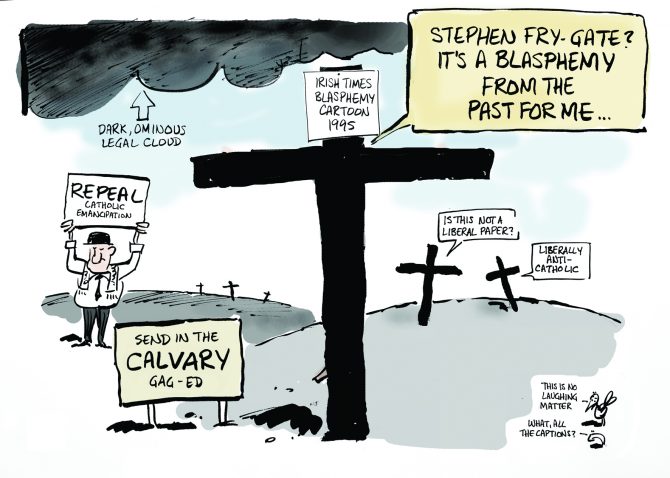 Martyn Turner recalls his brave stand against Ireland's blasphemy laws
IT WAS 1995. The phone rang. It happens. It was The Irish Times.
"You are being sued for blasphemy." "So what?" I responded, "That's the price you pay for creating hard-hitting editorial cartoons that challenge the very foundations of Catholic oppression."
As always, the editor appreciated the fearless risks I took in the interests of press freedom. My latest daring and wonderfully literate cartoon in support of divorce had sent shock waves through the Vatican.
The irony of it all was that the church-ridden Irish state was the blasphemous party, having openly questioned my special place in the hearts and minds of the nation.
Now I knew how history had treated other social commentators, such as the great William Hogarth, Oscar Wilde and Stephen Fry.
What did these ignorant philistine clerics and their political lackeys know about artistic skill, hyperbole and satire?
Have they any idea what it takes to come up with brilliant topical material every day, not to mention churning out occasional pompous filler pieces about being cruelly hauled into court for making sacrilegious comments over 20 years ago?
They have made my life a misery. Anyone less talented than me would have been crushed by such treatment.