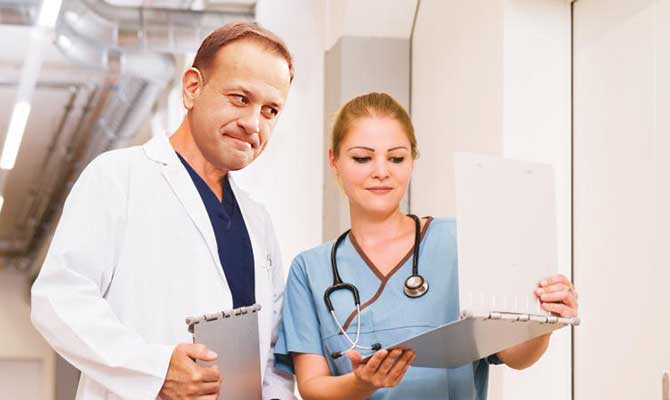 At the hospital's annual "think-in" in Clonmel, Dr Varadkar reflects on his first 100 days as Master.
Varadkar: …So to sum up, these first three months have been an unqualified success. We've taken giant strides towards making Blueshirt General a truly world-class infirmary. And don't just take my word. (He holds up a document) I can reveal that, according to new public-approval rankings to be published this weekend, we have now pulled eight points clear of our nearest rivals, St Meehawl's. Plus my self-satisfaction rating has reached an all-time high of 79 per cent! (The assembled doctors and nurses give him a standing ovation).
Varadkar (continued): Anyway, enough of patting myself on the back – you can all do that for me later. We also have some serious work here this weekend. But first, as we always do at our annual think-in, I would ask you all to pause for a minute's silence as we think of old friends and colleagues who are not with us this year. Speaking of old, we particularly remember Enda Kenny and Michael Noonan, who couldn't be bothered to attend because they're semi-retired now and didn't have sufficient team ethic to show up as a gesture of solidarity. (The audience bows its head in silence for a minute, which is cut short after 15 seconds)
Vardakar: Ok, that's enough dwelling on the past. But by the way, speaking of team ethic, the weekend won't be all work. We'll also have a fun team-building exercise tomorrow (several members of the audience groan audibly). It's a sort of survival-course thing, where you have to work together in mutual trust, while suppressing the usual urge to stab each other in the back. Participation is voluntary, of course. But if you don't think you can make it, just let us know, so we can make a note in your personnel files.
Two days later. En route back to Dublin, Dr Varadkar and chief matron Frances Fitzgerald make an emergency detour to Thurles, where an outbreak of election fever has been reported at a venue called The Ragg.
Varadkar: What an odd name for a pub and restaurant.
Fitzgerald: It's a relic of the War of Independence, apparently. Local safe houses used to fly rags from their windows as signals to Republicans on the run. The name stuck, except that over the years, for no reason, a second 'g' was added.
Varadkar (Smiling): Well, let's try not to lose the Ragg here, shall we? Or indeed any of our patients. How many are there?
Fitzgerald: Seven. (She hands him a file, marked "Tipperary Fine Gael Selection Convention"). Their symptoms are all fairly similar. Ambitions running high. Prospects worryingly low.
Varadkar (reading): Gosh, yes. These vote count figures from last year are positively anaemic.
Fitzgerald (handing him a MRI image, in the shape of Michael Lowry): Here's the problem.
Varadkar: Hmm, I read about this chap in medical school. Very unpleasant. And resistant to all known antibiotics, apparently. (One of the patients approaches)
Tom Hayes (for it is he): What are my chances, doc?
Varadkar (taking his pulse and frowning): Not good, to be honest. But don't worry, we'll save you, if it's possible.
Fitzgerald (quietly): What can we do?
Varadkar: Just give them all a couple of aspirin for now. We may have some new, experimental treatments that can eliminate this Lowry thing for good.  But they're expensive. I'll have to talk to Paschal about his budget plans first.
Two days later, in Croke Park. Minutes after the All-Ireland Final, a man collapses in the VIP lounge. A crowd gathers around him.
Varadkar: Let me through – I'm a doctor. (He recognises the patient) Oh, it's you.
Enda Kenny (clutching his chest): Am I finished?
Varadkar: Only as a leader. (He applies his stethoscope to the patient's chest, in various places, looking increasingly puzzled).
Kenny: What's the prognosis?
Varadkar: Your heart seems to be broken. And quite badly. It's in several different pieces now.
Kenny: That's what following Mayo does to you.
Varadkar: I can imagine. I'm more of an oval ball man myself, but even I could see that you chaps were unlucky today. You couldn't possibly have come closer to winning.
Kenny (raising himself onto one elbow): We were pretty heroic, weren't we?
Varadkar: Yes. And you know, all the Gah-heads say this Dublin team is the greatest of all time. So even if Mayo keep losing narrowly, that must make them the second-greatest?
Kenny (sitting up and looking healthier): When you put it like that, we probably shouldn't be so disappointed.
Varadkar: No. And Mayo seem to be getting closer to Dublin every time. Who knows, maybe next year, they'll win with the last kick?
Kenny (back on his feet now and straightening his tie): You're absolutely right. Thanks Leo – I feel much better now.  (They shake hands and Kenny walks away).
Paschal Donohoe: Wow – that was a miraculous recovery. What did you give him?
Varadkar (Smiling indulgently, as a warm musical soundtrack begins to play): A little thing called hope, Paschal. The most powerful medicine known to mankind.
Donohoe (Also smiling, as the music grows louder): And he fell for it, the poor bastard.