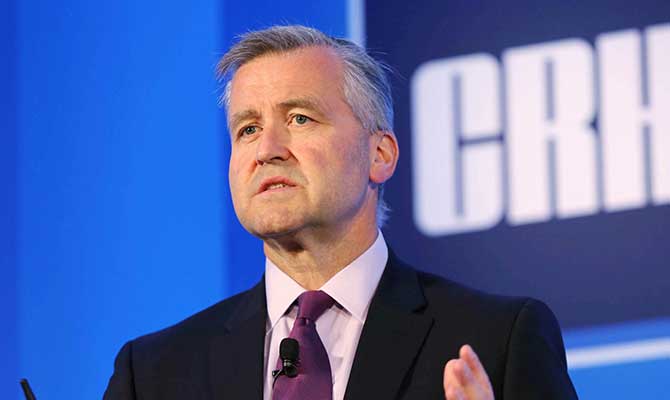 NOT TOO surprising to see former Bank of Ireland boss Richie Boucher defending the whopping €8m remuneration package of CRH's chief executive, Albert Manifold. This is an eye-watering sum, especially for a CEO who has just delivered an annual report that features a number of negatives for 2018, a year during which the share price dropped 25%.
Although Manifold's record in CRH has been impressive, particularly in terms of divestments and acquisitions, the latest results show problems in Asia, where CRH's only major wholly-owned operations are in The Philippines. The returns here have been awful, even dropping into losses (€14m) last year.
The big problem, however, has been in the European distribution division, which had been doing well, but last year suffered a significant collapse in adjusted operating profits of 46%. CRH now appears to have placed this division quietly on the market (still unconfirmed) and business hacks have been briefed with a €2bn price tag based on earnings. This is at least €1/2bn more than it might actually be worth, given that last year's earnings included the Benelux DIY division that was sold off last July.
Happily for Manifold, the head of the remuneration committee, Boucher, was more than impressed with the CEO's performance, describing him as "very good". And, it is not only Manifold who is doing alright for himself at CRH. Chairman Nicky Hartery earned almost €600,000 in 2018, which must look very tempting to Boucher – a strong contender to take over from Hartery, who has been on the board for 15 years.
And you can read more about Manifold and CRH here for free.