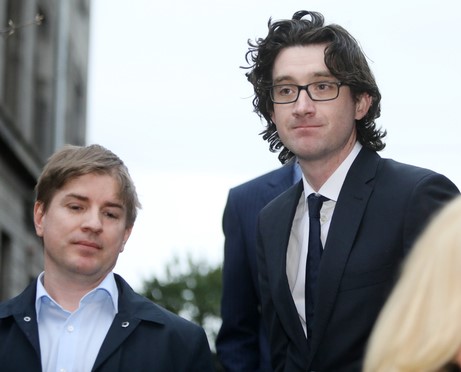 THREE MONTHS after exiting the Sunday Business Post, Tom Lyons has got his new media business up and running in conjunction with his former boss (and RTÉ board member), Ian Kehoe, who exited the SBP in August last year. The good news is that the two boys are taking themselves very seriously and are advertising for hacks (Emmet Oliver might be getting nervous) who "want to work for an outlet that places journalism at the heart of its mission".
The new venture is called The Currency and will focus on business. Speaking of which, who will be funding the fledgling operation? At this stage, it is not clear where any backing is coming from, although Lyons might know a relative with a few bob given that he happens to be a nephew of moneybags Pearse 'Alltech' Lyons, who died last year.
Lyons and Kehoe have set up an office on Fitzwilliam Street, D2, in the same building as architecture and design practice LyonsKelly, where Tom's interior designer brother, Eoin Lyons, is a founder. The business hacks have also incorporated two separate limited companies to hold their stakes in the new publishing business: TLLA Investments Ltd is named using the initials of its two directors, Tom Lyons and his wife, advertising executive, Lynne Andrews, while the same naming method was used for Mgik Ltd, where the directors are Ian Kehoe and his wife, accountant Miriam Galvin.
To be based on a subscription-based model, The Currency will be entering an increasingly crowded digital news market, where the likes of TheJournal.ie has splurged on online news. Despite the very deep pockets of its Daft.ie owners, Journal Media has recently turned to Google to seek help in funding its investigations.
Maybe Tom and Ian can pick up the phone to the Mountain View California to get some info on Google's 'Digital News Innovation Fund'. Like the two boys, Google also claims to have a mission – one "inherently tied to the reporting of journalists and news organisations".
Sounds spiffing.