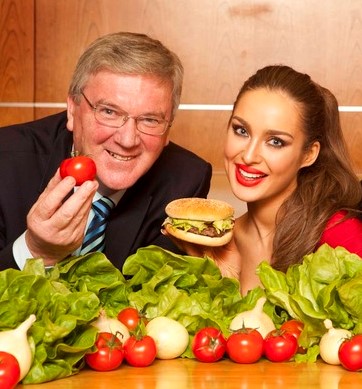 PIC: McDonagh with Roz Purcell
Congratulations to burger baron Pat McDonagh whose name features amongst the contenders for this years EY Entrepreneur of the Year award. One would assume this has something to do with Pat standing up to fast-food behemoth McDonalds.
Nice to see that none of those pesky bogus letters regarding the planned Obama-esque motorway plaza in Clare stood in his way. After all, Supermacs merely hired consultant, Howard Williams, who last week, was reprimanded by the Chartered Institute of Ecology and Environmental Management (CIEEM).
It found that he had breached the organisation's code when orchestrating what turned out to be a fake letter campaign in which over 180 almost identical letters were lodged with Clare County Council to offer "full support" for the development planned by the Supermacs head-honcho. (Williams said the letters were submitted in good faith.)
Coincidentally, last year, a woman who wrote a letter objecting to the planned opening of a fast-food joint that would compete with the mighty Supermacs, in Eyre Square, Galway, also knew Pat. She turned out to be a long-standing employee of Supermacs and had worked as a personal assistant to McDonagh.
Again, happily none of this controversy managed to stop Pat from appearing on EY's entrepreneurial menu.