THERE WAS much consternation on Friday when Justice Paul McDermott ordered reporting restrictions on the Ana Kriegel murder trial. Journalist Sarah Jane Murphy was quick to condemn "careless/vindictive tweeters" who "act like children on social media".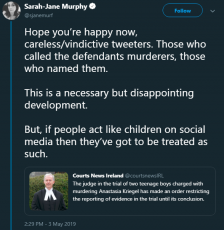 Michael O'Toole from The Star lambasted Twitter to "stop fucking commenting, flutes", while Declan Brennan of Courts News despaired at the "level of misunderstanding in the general public about how criminal trials run".
Later, however, the Judge varied the original order to restrict a single media publisher, without reference to any social media commentary.