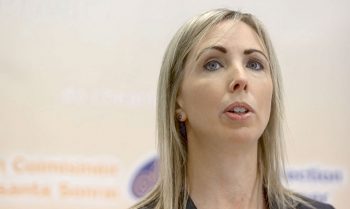 CONGRATULATIONS are in order for Data Protection Commissioner Helen Dixon, who was in Washington DC last night to receive an award for 'distinguished public service'. The honour was bestowed by the Future of Privacy Forum (FPF) as part of a 10th birthday bash at the swanky LINE Hotel.
The FPF, an industry backed advocacy group, styles itself as "a nonprofit organization that serves as a catalyst for privacy leadership" which aims to "fill the void in the "space not occupied by law". A void they claim "exists due to the speed of technology development" — rather than say, aggressive political lobbying.
Funding is derived: "58% from corporations and 38% from foundations" where top donors, include familiar faces like Apple, Facebook and LinkedIn which are all presently facing investigation by Dixon's office. Other corporate supporters under Irish regulation include: Intel, Pfizer, Google, Microsoft, Salesforce and PwC.
Statements from FPF on controversies like Cambridge Analytica and Google buzz continue to display a patience with tech giants that is fast running out elsewhere. Dixon herself may face a more difficult reception when she appears before a US Senate committee on data protection later today.