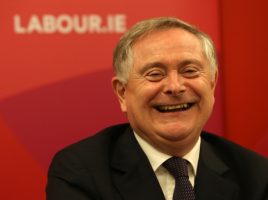 LABOUR HAVE made housing a central plank of their election launch this week and are keen to emphasise the party's commitment stretching all the way back to the 1940s. The manifesto, while light on detail, emphatically claims that 'Labour believes in rent control. Stronger rent control legislation is needed'. Recent history, however, tells a different story.
This public stance is something of a departure and readers may recall that the plight of tenants was only acknowledged by the party after they received a kicking in the 2014 elections.
During that campaign, the policy of rent control was put directly to Emer Costello in an RTÉ Prime Time television debate. Costello deflected to waffle about the European Parliament before the question was put again. Visibly anxious, she began to attack Sinn Féin before presenter Claire Byrne stopped and said: "I asked you a specific question, it seems you are not interested in answering so we will move on".
Up until then, Labour Housing Minister Jan O'Sullivan had on three occasions told the Dáil that "I have no plans to introduce legislation in relation to rent control at this time". Joan Burton's stock reply was to worry about the constitutionality of such measures while party leader Brendan Howlin, despite having never mentioned the issue until returning to opposition, sang the praises of rent control in 2017 as a policy "we have advocated for some time and for which my colleague, Deputy Alan Kelly, has advocated for a protracted period of time".
However, back when Alan Kelly did eventually take up cause, as in the latter half of 2015, he found little public support from his party as government colleagues in Fine Gael relentlessly briefed against his proposals.