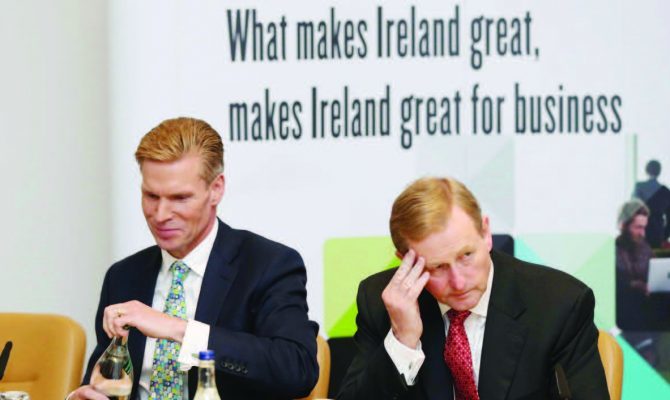 Scene 1: The Burlington Hotel, Dublin. After delivering his speech to the Fine Gael president's dinner, the Taoiseach receives congratulations from his party press officer.
Enda Kenny: Well, how did I do?
Press officer: Not bad. I didn't notice anyone in the audience falling asleep. But was that true about you spending 20 minutes sitting on a bench in Merrion Square last week talking to a homeless person?
Kenny (lowering his voice and leaning in): Well, between ourselves, it might have more like three minutes, really.
Press officer: Gosh. The head of government sitting down with a homeless person in a park, impromptu. That wouldn't happen anywhere else.
Kenny: Well, he was sitting, anyway. I might have been standing, technically.
Press officer: Still. It's impressive. But I hope you won't putting yourself at risk?
Kenny: No, don't worry. He was fully vetted by the Special Branch before our impromptu meeting.
Press officer: Right. Next you'll tell me you got copies of his questions in advance.
Kenny: Ah, no. Who do you think I am? Michael Noonan?
Press officer: Oh well, it's still a good story, I suppose. By the way (showing Kenny figures on a smart-phone), there's a new poll in The Sunday Times tomorrow. We're down three.
Kenny (studying the numbers): Feck.
Press officer: It's because of your U-turn on the November election, probably.
Kenny: It wasn't a U-turn. I always preferred a spring poll – I just let speculation to the contrary get out of hand.
Press officer: Yeah, whatever. Anyway, if the media ask about this, you know the line.
Kenny: That I never comment on polls.
Press officer: Correct.
Kenny: Especially bad ones.
Press officer: Don't say that.
Kenny (still studying the figures): Imagine, only a week after our giveaway budget and we're three points down. The ungrateful bastards.
*************
Scene 2: The Dáil canteen. Joan Burton and Brendan Howlin queue and chat.
Howlin: So, a bit of a bounce in the latest poll?
Burton: Yes (she glances over her shoulder), all the more enjoyable because the Blueshirts are in decline.
Howlin: Enda should have realised that the electorate never likes it when you offer the prospect of an election and then take it away again. Remember Gordon Brown.
Burton: Well, that'll teach the Mayo bollocks to fly kites without consulting me again.
Howlin: I get the sense, generally, that things are moving in our direction, at last. I mean, we definitely won the tug of war on budget strategy. A 75-25 on spending versus tax cuts. So much for Fine Gael's 50-50.
Burton: As long as the Eurocrats don't decide we broke the rules.
Howlin: I'm pretty confident we haven't, but we'll see.
Burton: And now Enda's falling over himself to promise tax cuts and the complete abolition of USC after the election.
Howlin: Well, we'll leave that fight for another day, if there is one.
Burton: By the way, well done on the Sean O'Rourke show the other day. Even if RTE did give you the questions in advance.
Howlin: Standard procedure, as you know. You still have to deal with the follow-ups and think on your feet. It's not as easy as it sounds.
Dáil canteen assistant (to Howlin): Tea or coffee?
Burton (to the assistant): I hope you submitted that question in advance?
Canteen assistant: What?
Howlin: Don't mind her – it's just a little joke. I'll have coffee, please. (A suited official steps forward and whispers in his ear. Howlin nods to the canteen assistant.) Actually, strike that. I'll have tea. Apparently the coffee here is terrible.
*************
Scene 3: The Millennium Stadium, Cardiff. As Ireland and Argentina prepare to meet in the Rugby World Cup quarter final, the Minister for Sport takes his seat in the VIP area alongside President Michael D Higgins.
Higgins: As you know, Paschal, I'm not particularly au fait with the rugby code. I'd know more about the people's game – football. Association football of course. In fact, I thought that was the only kind they played in Argentina.
Donohoe: No, they're fairly good at this too. Although not as good as established countries like us, obviously. Anyway, don't worry. I'll explain any bits you have trouble with.
Higgins: On a separate subject, by the way, I see your leader has decided against treating us to a pre-Christmas election? And I was almost looking forward to welcoming a left-wing alliance to the Áras as the new government.
Donohoe (smiling indulgently): Yes, well, I believe your former party colleague Joan Burton had something to say about the matter. But don't worry, you won't have too long to wait for the election. Whatever about the left-wing government.
Higgins: Not that it's for me to say, but if I were Enda, I'd have gone early. The feel-good factor from the budget will evaporate quickly. And the nearer you get to spring, the more chance there is of a metaphorical spanner being thrown into the works somewhere, when you don't have time to react.
Donohoe: There's always that risk, I suppose. Even so, I'd be fairly confident of a good result whenever the poll is held. I mean, we've done all the heavy lifting at this stage. Things are going to be easier from now on, so long as the electorate don't take risks with the economy. That's what we'll be saying.
Higgins: Well, I hardly need to remind you that Fine Gael has never won two elections in succession.
Donohoe: No, but there's a first time for everything. It's a bit like this. You know, Ireland have never reached the last four of the World Cup, either. But this time they've done the heavy lifting too – by beating France last week. That's how we got the easiest quarter final draw of any of the European teams, by the way.
Higgins: I see. So you think we're on the verge of making history in both politics and rugby?
Donohoue. I'm sure of it. Fine Gael for an overall majority is my prediction. And here… (he thinks for a moment) Ireland by 15.