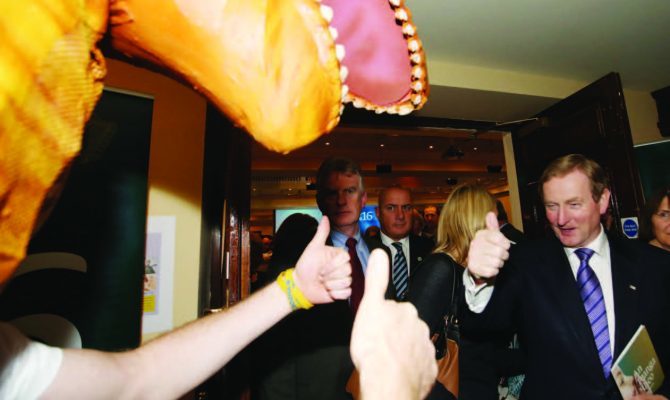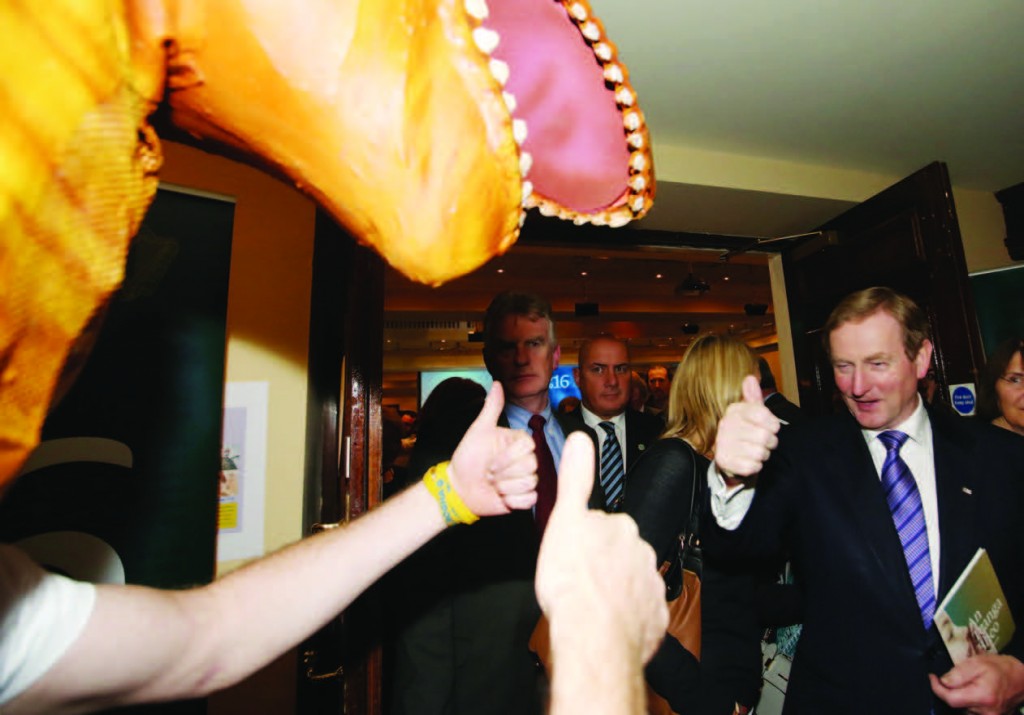 Scene 1: The bustling corridors of Government Buildings (Wesht Wing). En route to a Cabinet meeting, the Taoiseach bumps into the Minister for Arts and Heritage. They walk and talk.
Enda Kenny: Well, Heather. How's all the 1916 stuff going?
Heather Humphreys: Very good, Taoiseach – I hope. Although I'm a bit worried about the effect it's having on people.
Kenny: What do you mean?
Humphreys: Well, everybody's using military terminology lately. Eamon Gilmore's talking about being shot at dawn. Alan Kelly's calling himself "AK 47". And now John Perry's comparing the party's refusal to select him as an "execution".
Kenny: Hmm, I suppose there is a lot of that around, alright.
Humphries: And you were doing it yourself too, Taoiseach.
Kenny: How? When?
Humphreys: You know – that story you made up about Patrick Honohan saying you'd need to have the army guarding ATMs.
Kenny (offended): I did not make that up, Heather. It really happened. Just not in a "specific" way, if you know what I mean
Humphreys: Oh right – my mistake, Taoiseach. Anyway, so long as the Shinners don't start getting military ideas again, we'll be alright.
Kenny: Indeed.
*************
Scene 2: A Cabinet sub-committee meets to discuss the housing crisis. Alan Kelly is last to arrive.
Michael Noonan (sarcastically): Here he comes. The most dangerous gunman out of Tipperary since Dan Breen.
Kelly: That's me. AK 47 – licensed to kill.
Noonan: I get the AK bit, Alan. But is the "47" a reference to your age or your IQ?
Kelly: Neither, Baldy. It's my prediction of the number of seats you f**kers will be reduced to after the election, thanks to your failure to solve the housing crisis, among other things.
Noonan: You might be right. But however many seats we lose, it'll be nothing like the Labour meltdown.
Kelly: The important thing is that I get reelected, at least. Then I can rescue the party from the disaster Joan led us into.
Noonan: So that's what this doomed campaign for rent certainty is about? I mean, you know it's not feasible. And even your own TDs don't support it.
Kelly: It's called the triumph of failure, Michael. It worked for Pearse and Connolly, you might remember.
Noonan: I think you may be even shorter of guns than they were, AK. But good luck with the revolution.
*************
Scene 3: A prison cell in Kilmainham (Wesht Wing) Dawn.
Warder: (opening cell door): It's time.
Eamon Gilmore (finishing a letter to his loved ones and putting it in an envelope). I'm ready. (He hands the envelope to the warder). You'll see that gets delivered, won't you?
Warder: You can count on it, Mr Gilmore. (They walk down the corridor, passing the cell of another condemned man, who peers through the bars).
Pat Rabbitte (for it is him): Good luck, Eamon.
Gilmore: Thanks Pat. We fought the good fight, anyway.
Rabbitte (thrusting something though the bars): Here – take my copy of the Good Book. It'll sustain you in your final moments.
Gilmore (reading title): The Communist Manifesto. Thanks comrade.
(They pass another cell, where a female voice is heard)
Gilmore: Who's in there?
Warden: That's Countess Burton.
Gilmore (suddenly shouting through door): You'll get yours too, Burton – sooner or later.
Burton: No I won't. They'll never shoot a woman.
Warden (whispering to Gilmore): She's wrong there. I hear there's an AK47 with her name on it, even now.
Gilmore: She had it coming.
(They leave the corridor and step out into the Stonebreakers Yard. Suddenly a bell rings somewhere far off.)
Gilmore (waking up at home): Don't shoot! What? Where am I?
Mrs Gilmore: You're in bed. (She sighs). Don't tell me. You had that dream again, didn't you? I've told you before, you need counselling.
*************
Scene 4: The Fine Gael Parliamentary Party Meeting. After an impassioned speech comparing the Fine Gael candidate selection policy to a military tribunal, John Perry awaits the result of a secret ballot on the motion to add him to the ticket in Sligo-North Leitrim. He sees the party chairman approach with the result.
Perry: Well?
Chairman (taking something from his pocket): You'll need this.
Perry: What is it?
Chairman: It's a blindfold.
Perry: Ah Jayzus.
Chairman: I'm authorised to offer you a cigarette too.
*************
Scene 5: The Taoiseach's Office. Enda Kenny reads the newspapers while the portrait of Michael Collins looks on.
Kenny (in triumph): So I wasn't making it up! Not completely anyway.
Collins: Making what up?
Kenny: The thing about Patrick Honohan telling me I'd have to have the army guarding the ATMs.
Collins: So he's admitting he did say that after all?
Kenny: Eh, no. But it says here there was a contingency plan that, if the euro collapsed, the army would stamp all euros as "punts", temporarily.
Collins: Actually, the past five years have been a bit like the euro contingency plan – except it was Fianna Fáil that collapsed. Then all their policies were just re-stamped "Fine Gael" and everything carried on as before.
Kenny: Thanks Michael. But if you don't mind, come the election campaign, I'll be presenting the facts a little differently.
Collins: No better man.