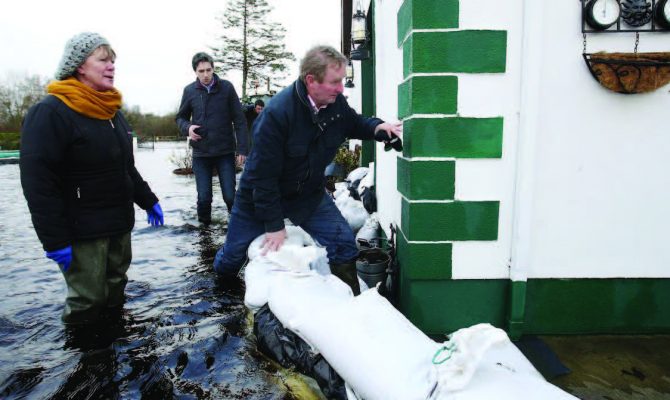 Scene 1: The Taoiseach's home, Castlebar. Enda Kenny takes a call from the Government press officer.
Feargal Purcell: Hi Taoiseach. Sorry to bother you so early in the new year, but we really need to get you photographed in a pair of wellies somewhere, quick.
Kenny: Why? Has a rubber tycoon made a donation to my election fund?
Purcell: No – it's just the flooding, Taoiseach. You need to be seen doing something about it – or at least being in the general vicinity of the problem, while appearing concerned.
Kenny: Fair enough. I can manage that.
Purcell: It's just cynical posturing, I know. But everybody else is doing it, so we have to as well.
Kenny: Although I heard Gerry Adams on the news there criticising politicians – and rightly – for using the crisis as a photo op.
Purcell: Yes – he said that while posing from pictures in a flood in Clare.
Kenny: Okay – let's do it. Anywhere in particular in mind?
Purcell: How about Athlone? It's handy for you.
Kenny: Excellent choice. A town with loads of floating voters there, I believe.
Purcell: Right. But do me a favour, Taoiseach. Do not make that joke while we're there.
Kenny: Don't worry. My lips are as sealed as my wellies.
*************
Scene 2: Meanwhile, in Kilkenny. The Tánaiste prepares to board a canoe with local junior minister Ann Phelan, while a Labour press officer looks on from dry ground.
Burton: Are you sure this is a good idea? You know me and Irish Water don't get on very well.
Press officer: Don't worry, Tánaiste – it's only a couple of feet deep. As you can see, the photographers are standing in it.
Burton: So why are we using a boat?
Press officer: It's show-business, Tánaiste. It'll increase your chances of being on the Six O Clock news. (He lowers voice and leans in) Just don't smile as much as you're doing. Remember, you're supposed to look concerned.
Burton: Okay. (She sits down in boat, awkwardly) It's a bit narrow.
Phelan (under her breath): Like the Labour support base.
Burton (likewise): Well at least we have two secure seats here, Ann. Aaargh! (The boat overturns and dumps them in the water.)
Press officer (sighing heavily): Oh dear. We're definitely on the Six O Clock News now.
*************
Scene 3: A street in Dublin. Mary Lou McDonald and Pearse Doherty walk and talk.
McDonald: So I hear Gerry's getting waxed?
Doherty (startled): What?
McDonald: Our beloved leader. They're adding him to the National Wax Museum. He's sitting for it today, I hear, and even invited the press in to witness it.
Doherty: Phew! I thought you said he was getting "whacked".
McDonald: God forbid! The days when that might have happened are past, I hope.
Doherty (lowering voice): Yeah, although Gerry's past does have a habit of coming back to haunt us.
McDonald (doing Adams impression): It hasn't gone away, you know.
Doherty: Well, fair play to him. That's another milestone. Today the National Wax Museum. Tomorrow, the Office of the Tánaiste, maybe.
McDonald: But that's the thing. Certain people think this might be Gerry's signal that he's about to step down.
Doherty: And take his place in the pantheon of history, you mean? Has he said anything?
McDonald: No. But you know how he likes a bit of choreography first, before making big announcements. Mind you, if he's going to quit before the election, he'd want to hurry it up.
Doherty: Do I take it you'll be throwing your hat in the ring if it happens?
McDonald: Well, as you know Pearse, I don't wear hats. But let's just say I might be getting my hair done today, just in case.
*************
Scene 4: The Taoiseach's Office. Enda Kenny reads the newspapers while the portrait of Michael Collins looks on.
Collins: I hear you were in Amsterdam?
Kenny: Yes. In Germany as well, on a trade mission. But it started in Amsterdam.
Collins: Did you learn anything about flood defences?
Kenny: Between ourselves, Mick, the press lads warned me to stay well away from the dykes. They were afraid the comparisons with Dutch know-how might be odious.
Collins: That was funny about Joan Burton, wasn't it?
Kenny: Hilarious. And thank God it wasn't me.
Collins (peering at newspaper headline): What's the story about Biffo?
Kenny: Oh yeah. People have started asking why we haven't put his portrait up in the Dáil yet, along with all the other ex-Taoisigh.
Collins: Which is a fair point. I know he's not exactly an oil painting – unlike some of us – but you can hardly discriminate against him on aesthetic grounds.
Kenny: I think we just forgot. It's his own fault for not commissioning the picture while he was still in the job. Bertie had his done years before he quit. I'll get Heather to put it out to tender this week. Maybe we could get an abstract version of him.
Collins (still reading headlines): Speaking of Flood defences, how are your Moriarty ones?
Kenny: What?
Collins: The other tribunal. (He quotes from the papers) "Criminal Assets Bureau to question O'Brien on tribunal findings".
Kenny: Hmm, yes. That'll be a bit embarrassing, if it happens. But I see they still need to gather more material first. So with any luck, the interview will be a couple of years away yet. At any that rate, if they ever to do a Slab Murphy on him, please God, I'll be safely retired.
Collins: Have you commissioned your portrait yet?
Kenny: Now that you mention it, I must get Heather on that too.