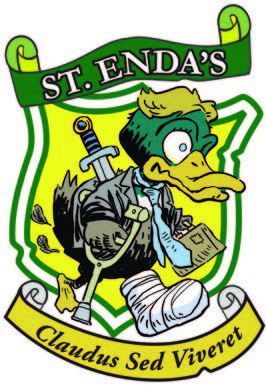 The newsletter of St Enda's Special School
A message from the principal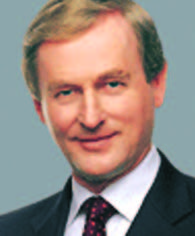 So here we all are, again. After what seemed like an eternity, I am delighted to welcome everybody to our historic second term at St Enda's. It may have taken a while to sort out our little enrolment problem. But now that we finally have the numbers, our future is secure for years to come, or at least until the summer holidays, which thank God are not far away.
There will be some changes this term. You may notice, for example, that Mr Martin will be lurking in the corridors a lot, even though he won't be doing any actual work for the school, and on the contrary, remains committed to setting up his own rival establishment as soon as sufficient numbers of parents are stupid enough to forget his last contribution to the sector, at the notorious St Bertie's.
For the moment, he is playing a mysterious "support" role here. This does not entitle him to use the staff room, although he already seems to have forgotten that part of our agreement.
As you will all know by now, young Mr Harris is the new PE teacher (it only seems like last week that he was head boy in first year!). Such is his enthusiasm for making us healthier, he has already fitted everyone with pedometers. You may also notice a new smoke alarm and CCTV system behind the bike shed!
His predecessor, Mr Varadkar, is now the SPHE teacher. He insists on regarding this as a promotion, although frankly, I can't even remember what the letters stand for. I think the 'H' might be for "humility", in which case his job may involve learning as well as teaching.
Among the people retaining their existing roles (to even my surprise) is Miss Humphreys, who will continue to have responsibility for art, and to improve our staff quotas under several key headings. We're all very pleased with the way she organised the recent centenary commemorations, and especially with how she saved the honour of the flag after the rough boys from St Gerry's tried to wrap themselves in it as usual.
Finally, you will already have met our dynamic new secretary, Miss Doherty. She has responsibility for all roll calls – a very important job this year – and will be adopting a zero tolerance approach to attendance and punctuality.
Be warned! I met her in the hall with a hockey stick the other day, and pointed out that we don't even have a hockey team at St Enda's. "It's not for games," she told me, whacking an innocent passerby. "It's for anyone who turns up late."
---
A word about our crest
People often ask why our school is represented by a lame-duck motif. The story goes back to the original St Enda, a 6th century holy man who helped convert Ireland to Christianity. Once, chased through Mayo by a group of muck-savages called the "soldiers of destiny", he miraculously transformed himself into a duck and flew away.
There are different stories about what happened to him then. In one version, he was martyred by a pagan king, Leo the Greedy, who before the saint could resume human form, ate him with orange sauce. But in a more uplifting version, Enda survived even this. Leo bit off more than he could chew, choking horribly. And despite a heavily bandaged leg, the saint went on creating miracles for years afterwards.
---
The pipes, the pipes
Following last year's unfortunate incidents with e-coli poisoning, St Enda's remains committed to a much-needed overhaul of the school's water-pipe network.
Unfortunately, due to the failure of the recent fundraising initiative (and notwithstanding the 11th-hour contribution from Mr McGrath, following legal advice), the work will not now go ahead this year.
The school taps will therefore carry a boil-water notice for the foreseeable future. Also, alas, our swimming pool will remain dry.
This does not mean, however, that the time-honoured St Enda's ritual of pupils throwing new teachers into the pool should not continue. Go for it, kids! And in Mr McGrath's case, use the high-diving board.
---
Guest columnist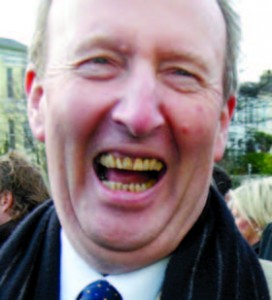 The editor regrets that the advertised column by our school bus driver, Mr Ross, does not appear in this week's issue.
This is not because of its subject matter: "Why I would make a much better principal than Mr Kenny". On the contrary, the newsletter welcomes all shades of opinion, especially humorous ones, as in this case.
The problem was Mr Ross's appalling misuse of English, which the editor was far too busy to clean in time for publication. To give just one example, he refers throughout his article to the principal as "the incompetent" when he clearly means "the incumbent".
Mr Ross may well be a columnist with something called the 'Sunday Undependable', as he claims. But if so, they must have lower standards than St Enda's newsletter. Our advice to him is not to give up the day job.
Speaking of which, we wish Mr Ross well in his additional role as head of the school sports teams. A hint, in case he needs it: there are 15 players in rugby, not 11, as one of our previous managers (Mr Varadkar) disastrously assumed before our 134-0 defeat to St Michael's in the preliminary round of the 2011 Junior Schools Cup.
---
Retirement of Miss Creighton
The newsletter is saddened to hear of the early retirement of Lucinda Creighton, who left us to set up her own academy some years ago. Despite policy differences with her in the past, we took no pleasure from her hilarious failure to attract any public support.
And while regretting her departure from educational life, we entirely understand the decision to spend more time with her grievances.
---
Letter from Mr Shatter
The editor regrets that, due to pressure of space, it was not possible to include a letter from another former teacher, Mr Shatter, in this issue.
It was, in any case, a bit long-winded. In some respects it read like an application for a job in a subject the school doesn't yet offer. But, rest assured, Mr Shatter, if we're ever looking for an expert on ancient history, you'll be top of the list.
In the meantime, we promise to publish your whiny correspondence in a future issue, although we reserve the right to edit it severely, and to point out yet again that the principal never put any pressure on you to resign, and definitely didn't send a package containing a dead fish around to your house.