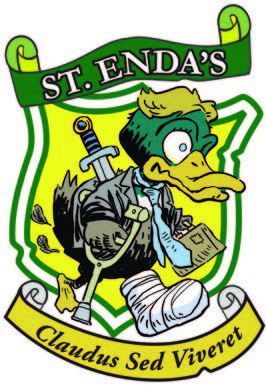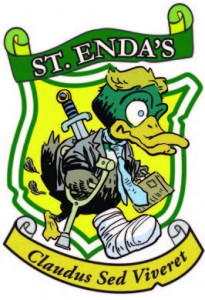 The fortnightly newsletter of St Enda's Special School
A message from the principal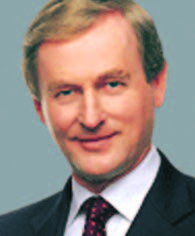 Well, the sun is shining at last and it looks as if we're in for a heat-wave. Which can only mean one thing. Yes, students, it's exam time! But look on the bright side.
At least you have all the hard work done now (we hope!), and so will have no trouble coming up with the right answers in coming days. Unlike those morons on the board of management who, when asked who the school principal was back in March, took over two months, and several "mocks", to come up with the correct name.
Exams apart, as you all know by now, we will also be having major work carried out on the school in the coming weeks. This is because some of our structures date back to 1745 and have become dangerously decrepit. But enough about Mr Noonan! The school buildings need refurbishment too.
And amazingly, not even the very long holidays we can look forward to shortly will be quite long enough to get all the work done. So we will all have to get used to the site of scaffolding and planks about the place for the foreseeable future. Although, speaking of planks – and people who as thick as two short ones – the principal is well used to having those around him already.
Still on the subject of my critics, I understand there have been complaints about my 11 picks for the school debating society – a traditional privilege of the principal – and the fact that I let our support teacher, Mr Martin, choose three of them.
Well, as you all know, if I had my way, I would abolish the society altogether: it's a waste of school resources as far as I'm concerned. But in the meantime, if letting Mr Martin have a role in it (and after all, talking endlessly with little effect is very much his forte) keeps him happy, it's a small price
Finally, a word about school security. When I said during general assembly last week that I was powerless to do anything about the gang violence currently stalking our streets (and occasionally in our playground), I was speaking in a purely personal capacity.
As a school, of course, we are fully committed to making our campus a safe space. That's why I'm delighted to announce the appointment of Mr Kevin Vickers as our new head of security, with immediate effect.
A recent arrival in our community, from Canada, Mr Vickers successfully auditioned for the role when wrestling a deranged protester – who may or may not have been trying to assassinate the principal – at the commemoration in the grounds last week.
The event, which was in honour of the Black and Tans who tried to burn the school in 1922, was otherwise a great success.
Bullying
Students, parents, and staff members are all advised to familiarise themselves with St Enda's policy on bullying, especially the section on "whistle-blowing". This reminder is being issued in light of a recent incident in the yard which may or may not have been witnessed by Miss Fitzgerald. (She has been asked several times since, but hasn't managed a straight answer yet, possibly because she was so traumatised by what she did (or didn't) see.)
We understand that whistle-blowing can be very annoying sometimes. But there are many situations in which it may be necessary: during games refereeing, band practice, and so on. In any case, it is never acceptable that someone can be threatened with having the whistle shoved "up his hole", as sources close to the incident in this case (but not necessarily Ms Fitzgerald) say may have happened in this case.
The school bars
Following a complaint from a concerned parent (Ms Louise O'Reilly of Shinner Avenue), the school has carried out a review of its gym equipment, and in particular the parallel bars which she considered to be excessive ("do we really need two bars?") and potentially unsafe.
The review involved getting the St Enda's bus driver and sports coach, Mr Ross, to lean against both bars for a period while thinking about the issue. On foot of this investigation, he has declared that neither bar is a threat to the school and that, on the contrary, both are "great fun, hic, altogether". Mr Ross is also now "looking seriously" at the possible addition of a smoking area in the gym, as suggested by Mr McGrath.
The Principal's "Dad Dancing"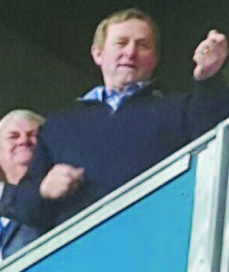 A big thank you (we think) to all the students and parents who posted videos on social media of the principal "busting some moves" at the Bruce Springsteen concert in Croke Park. We're told it's the biggest internet sensation involving anyone from the school since Hughie "Macarena" McIlvanney did his now famous comedy routine for fundraising as part of "Red Face Day" last year.
What can we say? When the song 'Born To Run' (which could be the principal's life story) came on, Mr Kenny just couldn't help showing Mr Springsteen who was really the boss.
Enda Stories: episodes from the life of our patron saint. No 2 in a series.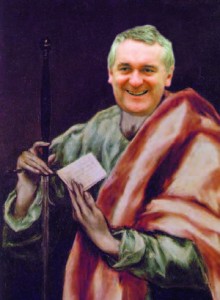 In the pagan Ireland of the late 20th century, not long after St Enda left Mayo to embark on his life of life of Christian teaching, a poor family – named in the chronicles only as "Fine Gael" ("family of the Gael") – was attacked and left for dead by a bunch of cave-dwelling savages, the "Soldiers of Destiny".
The soldiers were led by a semi-mythical figure called Bertie, who was said to ride a Celtic Tiger, which conferred magical powers on him, making him invulnerable. But when Saint Enda saw what had been done to the poor family of the Gael, he cast a curse on Bertie, saying that one day the Celtic Tiger would disappear from under him.
At first, nobody believed the holy man, who was called insane, especially after an incident at Mullingar, circa 2007 AD, in which he did battle with Bertie and the Tiger while himself riding only a giant rabbit (called "Pat").
But gradually Enda breathed life back into the Fine Gael. And it came to pass, eventually, that Bertie's tiger became extinct, as prophesied, causing him to hit the ground with a hard landing. At this point, he is said to have become very old. Enda, by contrast, never visibly aged and was known, even in his late years, for dancing and playing air guitar, to the delight of his many followers.