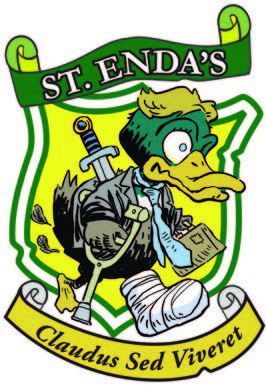 A Message from the principal
I understand there has been some confusion in the ranks about my stated long-term intentions vis-a-vis the school leadership. Even our normally sharp secretary, Miss Doherty, appears to have developed special needs in this area. So allow me to explain it again, speaking slowly this time.
When I said I intended to step down before the next election of the Board of Governors (February 2021 at the latest), that was true. But when I subsequently said that I intended to serve the full term, that was also true. And to understand how I can reconcile these apparently contradictory positions, we must first take a short detour via the science laboratory.
In his celebrated thought experiment of 1935, as you will all remember, the Austrian physicist Erwin Humdinger described a situation in which a cat, placed in a box with a flask of poison and a small quantity of radioactive material, could be simultaneously dead and alive.
The paradox is made possible by certain Einsteinian ideas about quantum mechanics. And although our transition years students were not completely successful last year in their attempts to confirm result in practice, with a real animal*, they assure me that it is theoretically possible.
Now I don't pretend to know how, exactly. So Miss Doherty should definitely not waste time and energy trying to get her tiny but perfectly formed little head around it. Sometimes, it's best just to take things on faith. And in this context, I advise teachers and pupils to accept the facts that (a) I'm retiring soon, and (b) I am not retiring, and then get on with their lives.
In the meantime, to those who claim that the supposed uncertainty is causing the school to "drift", I suggest you take a look across the fence into our neighbouring campus: Cameron Comprehensive. Now that's what you call drift.
I just hope that the traumatic experience there of Miss Loathsome, the former candidate for the principalship, now exposed as a defrocked mother superior, will make others – closer to home – think twice before throwing their cats (er, I mean hats) into the ring.
(*The students have again asked me to thank Mrs Kelly for the loan of 'Mittens', who they say is still in good health and will be returned to her safely as soon as his prescribed period of quarantine, or "half-life", expires.)
---
Rowing News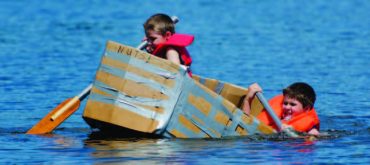 The sinking of one of our boats during last week's All-at-Sea Regatta has led to criticisms that the school's performances of late have been "rudderless". But according to our sports teacher, Mr Ross, this is based on a simple misunderstanding of the rules.
Of the most controversial incident, during the Mick Wallace-sponsored Row-Your-Own-Canoe event, he points out that he himself, along with Mr McGrath and Mr Halligan, were performing as a "cox-less three", so that no rudder was required:
"Unfortunately, due to foggy conditions on the water, we did not realise until too late that we were on a collision course with the main school boat, a coxed eight, under the guidance of the Attorney General."
Having been badly holed during the incident, the latter boat is now undergoing repairs, while Mr Ross has pledged to cooperate fully with a review into water safety.
In the meantime, there was happier news in the Novelty 'Up the Creek Without a Paddle' section, which was won by our principal. When last we heard, other members of the school rowing club were trying to find Mr Kenny with a view to celebrating his achievement in the traditional manner (throwing him overboard!).
---
Stories from the life of our saint: Part 3
In the Year of Our Lord 616, soon after his miraculous escape from a group of pagan muck-savages, the 'Soldiers of Destiny', Saint Enda began to reflect on the question of who would be his eventual successor as head of the monastery he had founded.
Although magically transforming himself into a duck had saved his life, he had also suffered injuries in the process, and the resultant lameness stayed with him even when he resumed human form.
He knew that he could not live forever. And even though his most loyal followers, including Simon 'the Simple', Leo 'the loyal', and Frances 'the Female', all publicly assured him of their unquestioning loyalty, he knew there were others who openly discussed the succession.
Sometimes, indeed, he would resume the form of a mallard to listen in on their conversations. It is said that, with his supernatural powers, he could hear even the grassroots talking. And sure enough, one day, he heard a particular gossipy clump discussing a "motion of confidence".
So he vowed silently: "I'll show you a motion of confidence". Then he spent the morning grazing on some of the disloyal grassroots – the ones highest in roughage. And when the moment was right, he flapped his wings, and rising above the others briefly, shat on them from a height.
His loyal followers, including Simon and Leo and Frances, saw the incident, recognised the saint, and laughed at his mischievous sense of humour. But they also all secretly took vows of silence on the leadership issue, lest they be shat on too.
---
Water Water, Everywhere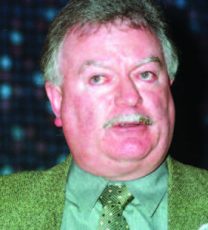 Congratulations are due to our retired schoolteacher and amateur dramatist, Mr O'Toole, for his magnificent adaptation of Samuel Taylor Coleridge's classic Rime of the Ancient Mariner, which opened (and closed) in the general assembly hall last week.
Mr O'Toole took an old story – in which a ship goes slowly nowhere while the crew, surrounded by water but unable to drink any of it, lose their minds – and turned it into something new and fresh by blaming all the vessel's problems on Paul Murphy.
Almost everybody agreed the opening night was a triumph. Unfortunately, the exception was our drama critic, 'Biffo Junior', aka 'the Butcher of Broadway', who thought Mr O'Toole should have "stuck to the script, for a change"**.
The planned second and subsequent nights will not now happen. Our special "support" teacher and back-stage manager, Mr Martin, has promised to find something more suitable as soon as possible.
(**Full review page 94.)