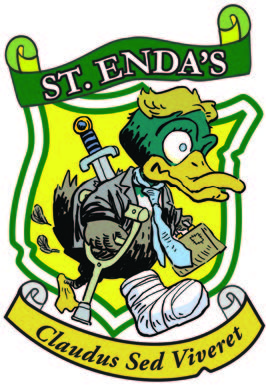 A MESSAGE FROM THE EDITOR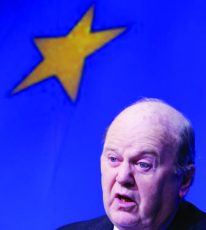 (This week's guest editor, in the continuing absence of the principal, is our maths teacher and school treasurer, Mr Noonan)
Hello everybody, and welcome to autumn. It's the season of mists and mellow fruitfulness, as the poet WB Keats called it. And we all know fruit is a great thing. But as events of the past week remind us, you can also have too much of it.
You will be aware by now that we have had an unusual windfall of apples lately from Tim Cook's orchard, which adjoins or school. This would normally be a welcome event, and we would usually be within our rights to keep them. We have a long-standing arrangement with Mr Cook that, since many of his trees overhang the school grounds, anything that drops this side of the wire is ours.
In addition, of course, he generously provides us with several boxes of free apples every year, in gratitude for the fact that we let him use our facilities and because he hires most of his pickers from among our students, cheap. But the problem in this case is that the massive fall of fruit of our side of the fence this year was not a natural occurrence.
We know now that a gang of European apple pickers went into his orchard one night last week and shook all the trees alongside our fence. They did this, clearly, with a view to collecting the fruit themselves, later.  Luckily, Mr Cook and I were quickly alerted to the situation and gathered up all the fallen apples before anyone could make off with them. They are now stored in a special shed, pending clarification of their legal status.
Naturally, certain people in the school wanted to keep the apples. Indeed we believe students were already planning a massive cider party, and that some of the less responsible teachers – the usual suspects – were tempted to join them.
But after again consulting the school's solicitor, Ms Whelan (who's been very busy lately) they were persuaded of the wisdom of keeping their heads down for a change and letting me take the blame for a difficult decision.
I make no apology, however, for thinking of the school's best long-term interests. After all, if we gorged ourselves on the extra apples now, what would we get? The runs, of course.
And it might not be just us who got the runs, either. Mr Cook could get them too, and run all the way over to our neighbours, the Teresian School, to relocate his orchard.  I'm sure Mrs May would just love to have his trees leaning over her fences instead of ours.
So in short, the supposed windfall is entirely illusory. But don't worry. There will be some apples available for distribution this autumn, around Halloween, when I finalise the school budget. As usual, however, they will have strings attached, suspended from the ceiling and everyone will have to compete to get even a small bite.
---
School Panto: Call for Auditions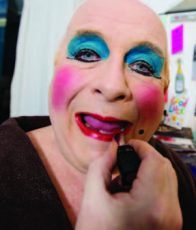 This year's Christmas pantomime will be "Mick and the Beanstalk", adapted from the original, and directed by the multi-talented Mr Noonan.
A modern telling of the old morality tale, it will follow the adventures of Michael, a young boy from Limerick who grows up to be a financial genius, transforming his mother's cow-based economy into a global success story by exchanging it for magic beans from US high-tech companies.
The success is briefly threatened when, not content with the gold coins Mick brings back home on a regular basis, his mother and other short-sighted people get greedy and want him to steal the goose that lays the golden egg as well.
This upsets a multinational giant, who cries: "Fee-Fi-Fo-Fum. I smell the blood of an English post-Brexit relocation of my company headquarters." But Mick's prudence eventually saves the day and everybody lives happily every after.
Auditions will be held in the school hall next week.
---
Maths For Fun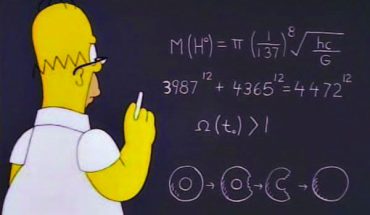 1) If you have 400 million apples a year to begin with, and then a strange woman with a dodgy foreign accent calls to your door offering another 13 billion, what do you end up with (see question 3 for a hint)?
2) If you're a socialist who wants to end world hunger, but in doing so you give away the seed potatoes, does that make you a Rooster or a Kerr's Pinko?
3) How many dwarves attended Snow White's funeral?
---
A postcard from the principal
Greetings from the south of France, where I'm touching up my permatan in preparation for another Irish winter. I hope it's raining where you are (only joking!) (not really!!). It's sweltering here.
I'm writing this from Lourdes, where we stopped overnight. And guess who I met on the street today? The entire Mayo football team, that's who! Small world. Apparently, they're doing a warm-weather training camp here in advance of their big game with Dublin. It involves some sort of hydro-therapy, with daily sessions in baths. All very scientific, I'm sure.
They hope it will give them a vital edge against the Dubs, and they're determined to leave no stone unturned. In fact they fly out tomorrow for another camp, this time in Medjugorje. After that, it's back to regular training at home (in Knock). It's great to see such intense prep-work, with – despite all the disappointments of previous years – no sign of desperation creeping in.
Anyway, that's all I have time for now. See you soon.
Mr Kenny