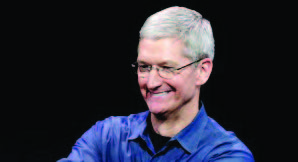 COOKIN' THE BOOKS: Apple CEO Tim Cook said that he'd even stump for a few packets of bacon fries next time he's in Dublin
"Sound, lads, I'll get you a pint next time I'm in Dublin" – That's the message from Apple CEO Tim Cook to the Irish Government after the Cabinet decided to appeal the EC tax judgment against the company.
The European Competition Commissioner says that Apple owes €13bn in back taxes but the Irish Government, along with Apple, is to appeal that ruling.
And to say thanks for possibly saving the tech giant up to €20bn, with interest added, boss Cook has told Enda and the gang that a night out on the town is called for.
"It'll be my round in Coppers, all night, lads," the American wrote Kenny in an email. "I don't want to see your hand in the póca once, I insist. Order anything you like, money is not an object, in this case. It's the least we can do."
---
Apple boss's ingenious plan to cover tax bill