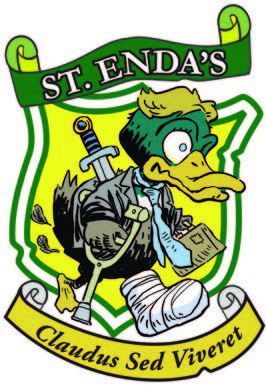 A Message from the Principal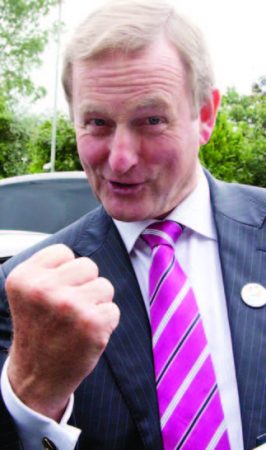 Yes folks, I'm back. And so, as you've probably heard by now, is my mojo. But what exactly, I hear the older and less "hip" of our readers asking, is a mojo?
Well, according to the Urban Dictionary, a mojo is a sort of charm or magic spell, especially one that makes the person in possession of it sexually irresistible (not now, Fionnuala! – can't you see I'm busy?).
It's thought to derive from an African word, moco'o, meaning "medicine man". And it was made famous by a classic Muddy Waters blues song "Got my mojo workin".
Mind you, Muddy lamented: "Got my mojo workin'/But it just won't work on you." So it sounds like his medicine man was about as successful as Mr Varadkar was as our former school doctor.
Happily, young Mr Harris is in charge of first aid now and I'm told Mr Varadkar is doing quite well in the important new position I gave him, whatever that was again.
Anyway, part of having my mojo back means I'm now even more reluctant to plunge the school into the crisis that my early retirement as principal would surely precipitate.
But speaking of muddy waters, let me clarify yet again that it remains my intention both to serve a full term and to step down soon.
This does not appear to be clear to some people, of course, including the unnamed graffiti artist who spray painted the wall of my office with the message: "Go by May, or else."
But as it happens, I have taken that writer's advice. I went over by Mrs May's school the other day for a courtesy call and, when I mentioned the apparent confusion about my intentions, she suggested something that's seems to work for her.
Thus, in future when people ask me what exactly my plans for leaving the principal's office are, I shall just say "leave means leave", and then leave it at that.
If any teachers are not happy with this, I will bear their criticisms in mind during any possible reshuffle of the staff room and class timetables (which my mojo has advised me to threaten, to keep everyone in line).
In the meantime, you may notice a few other changes this term. Mr Donohoe will be taking more of the maths classes in the foreseeable future to ease the pressure on Mr Noonan, who has been having some health issues and is also working hard on the school budget.
I'm also very happy to announce that the long-awaited school crèche will be opening soon. It's hoped this will make it easier for some teachers to do their jobs, free from the distraction of noisy children.
The new facility will be secure and sound-proofed, so that in future, nobody in the staff room will hear Mr Halligan or the other inmates whenever they throw their toys out of the pram.
---
Detentions
As part of the principal's new get-tough policy on school discipline, from now on we intend publishing the names of students in detention.
This week's bad boys are:
John Paul Phelan: For talking at the back of the class.
Brendan Griffin: Stepping out of line during assembly.
Jim Daly: Enjoying private joke with Mr Coveney while principal was talking.
John Deasy (yet again): Smoking at the back of the bike shed. Being generally disruptive. Sending dead fish wrapped in newspaper to Mr Kenny's office.
---
School Uniform
As the new academic year begins, we would remind students that the St Enda's uniform must be worn at all times. Some allowances can be made for jumpers and trousers, since these will get dirty (especially when the mud starts flying, around budget time!) and it is not always possible to wash and dry them in time. In such cases, we may allow temporary substitutes, provided these are formal and of similar colour.
There can be no leniency, however, with the famous blue shirt, which has always been central to discipline here at St Enda's. The rule will be rigorously enforced this year. Anyone who turns up in a white, yellow or – God forbid – pink shirt can expect to join Mr Deasy on one of his many trips to the detention hall.
---
Bus Strike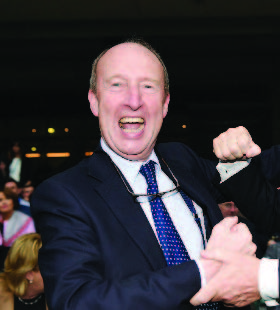 We would like to apologise to students who had to walk to school this week. This was due to circumstances beyond our control, and apparently also beyond the control of Mr Ross, although he's supposed to be the bus driver.
He tells us it was because of some mechanical problem with the vehicle. But we're beginning to suspect that there's a mechanical problem with Mr Ross himself. Even though he's been in the job for several months now, he still hasn't managed to get his arse into gear.
---
Charity Ticket Appeal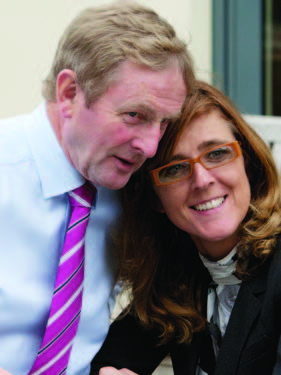 Thanks to everyone who responded so generously to the Michelle Mulherin All-Ireland Final ticket appeal, whether by contributing actual tickets, or money, or just sarcasm on social media forums.
As most of you realise, Michelle has a painful condition known as Seasonal Affective Mayo-fan Syndrome (SAMs): a disorder exacerbated by the fair weather of late summer and autumn. Sufferers become convinced that this is the year their team will finally win the All-Ireland, and experience panic attacks and other symptoms at the thought of not being there when it happens.
This is not the first time Michelle has been the subject of a successful emergency appeal. You may remember that during our visit to the country last February she was one of a number of St Enda's special needs students left stranded up the creek without a paddle.
Fortunately, her distress flares were noticed and she was among the lucky 11 people rescued by our navel-gazing vessel, the LE Seanad Éireann. Although she suffered severe whiplash in the incident, her neck appears to have recovered well.