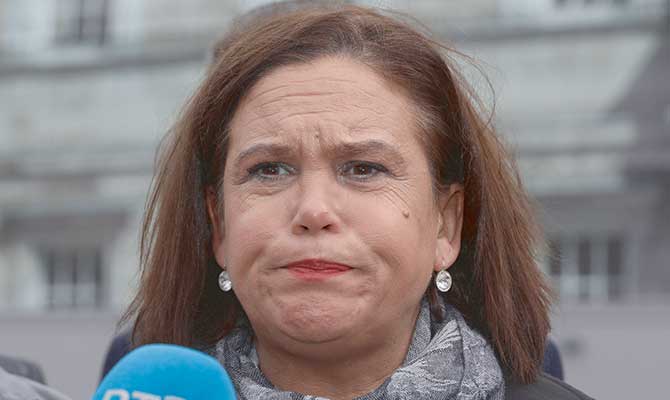 Sinn Féin leader Mary Lou McDonald has hit out at critics who have accused her of "hobnobbing with the super-rich" at a fundraising Christmas dinner in the United States.
Speaking outside Leinster House last night, the Dublin Central TD complained that she was a victim of discrimination and was being grossly mistreated – particularly by Fine Gael.
"It's a disgrace that they are saying I'm totally useless just because the party keeps making embarrassing mistakes under my leadership," she told reporters.
That Christmas menu
Egg on Face
Steamed up Cahill
(of beans)
Fishy Mess with Peadar
* * * * *
Series of Turkeys
Beef (with Leo)
Super-rich $400 Steak Ta Ta
Greenbacks (with
everything)
* * * * *
Sticky (Post-Presidential) Xmas Pudding
Stewed Pearshapes with Cookies ár lá
Humble Pie (off)
Champagne (in the butt) backside
(More recipes for disaster available in the Grizzly Adams Cookbook)
---