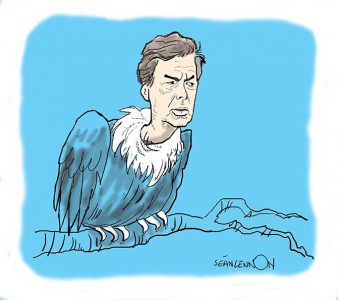 Once seen and heard sticking its beak in here, there and everywhere, this fly-by-night creature has now been reduced to just one disconsolate member, according to observers.
"It has been brought close to extinction by its resilient predator, the Leowl," says one expert in has-been species who preferred to remain anonymous for fear of retribution. "It used to be so chirpy when it was resting with the legal eagles, but now the one that's left just broods in the tall grass with the grouses."
Recognised by its blue denim-like coat and very thin skin, sometimes the Shattersnipe's whiney tone can be hard to listen to as it snipes aggressively at the world around it, increasingly showing an inability to adapt to the changing environment.
---