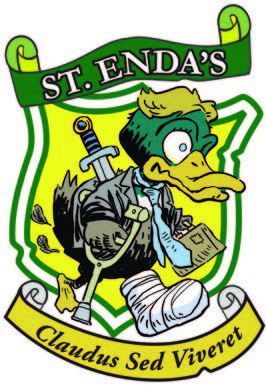 A message from the principal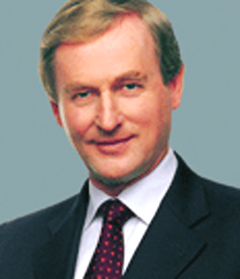 As you all know, I have repeatedly indicated my intention to step down as principal some time during the life of the current school enrolment: that is to say, before our present first years sit their Leaving Cert.
It is also a matter of record that I have no intention of resigning as principal unless or until hell freezes over first. I don't think I can make my position any clearer than that, although some people seem determined to find my comments on the issue confusing.
But in the interests of even further clarity, I would now also like to outline my long-term intentions vis a vis the "day-job" – ie teaching.
Yes, given my extraordinary achievements at the helm of St Enda's, it is easy to forget that I am still a humble teacher too. And until now, it was generally assumed that if and when I ever stood down as principal, I would also be retiring from classroom duty.
After all, as I have to remind people regularly, I am now 65. Yes, I know I don't look a day over 50. Even my hairdresser can't believe I still don't use artificial colouring (although Mr Vardakar was pleading with me recently to "dye" for charity – at least, I think that's the way he spelled it).
But I am now of what most people would consider pension age. Furthermore, I will soon have been teaching for as long as another famous hero of education, albeit a fictional one: "Mister Chips".
And to be honest, until recently, I was looking forward to a well-earned retirement. Then, with the selflessness that marks me out from lesser men, I remembered that the decision was not all about me.
That the school, already by then having to cope with the uncertainty of having a new head, might be ill-prepared for the double blow of losing me as a teacher too. That having accumulated such a vast store of experience, it would be selfish of me just to walk away. Besides, I thought, what's the hurry?
With my perennial youthfulness reserves of energy, there will still be plenty of time for doing all the things I plan to in retirement – climb Mount Everest, become an astronaut, manage Mayo to a three-in-a-row, etc – in my 70s and beyond.
Then there was the question of ensuring a suitable successor. I may not be able to choose the right candidate to follow me as principal (ie Simon, in about 10 years' time). But I'm determined to ensure that when I finally quit teaching, the school will get somebody equally good in my place.
That's a tall order, of course. And when I thought about it recently, I realised I couldn't guarantee that the right person would be available. In fact, she made the point herself the other day. "Daddy," she said, "I'm just not sure I'm ready yet."
So for all these reasons, my new plan is to continue working indefinitely, for as long as I can make a contribution. I trust that when my time is finally up, whenever, I will be the first to know it. At that point, my intention is to be as graceful as possible while they drag me kicking and screaming out of the staff room.
CREEPY CLOWNS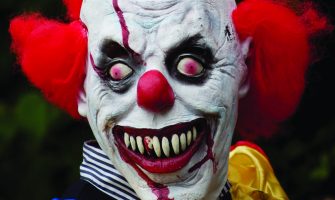 Following complaints from some of our younger pupils, gardaí have arrested a man and a woman who were seen hanging around the school "dressed funny" and "looking weird". Miss Fitzgerald, who is liaising with the investigating officers, reminds us that she can't identify the suspects (apart from blurting out that they were "Mick Wallace" and "Clare Daly"). But we're assured that gardaí are not looking for anyone else in relation to the incident. The children involved have been offered counselling.
Strike Arrangements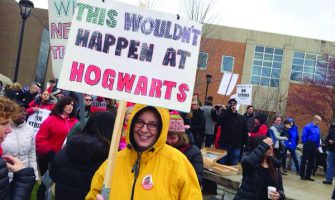 Barring a late change of heart by the teaching unions, it now looks certain St Enda's will face work stoppages in November.  We are now in the process of making arrangements to ensure the school remains open throughout the dispute. To this end, the school will shortly be recruiting suitably qualified parents to act as supervisors.
Luckily we should also be able to call on those many relatives of St Enda's staff who are currently employed in secretarial or other support roles.  Management has previously expressed embarrassment at the levels of nepotism of the premises, and will again when the strike is over.  For now, however, it's an important resource.  We expect the temporary transfers to be more than sufficient to keep the premises open throughout the dispute, and to compensate for any loss of income by the striking teachers.
Teresian School Border Patrols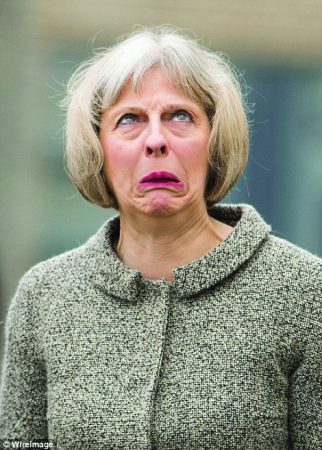 Contrary to wild rumours that have been circulating, St Enda's will not be mounting boundary controls on behalf of our stuck-up neighbouring school, Teresian College, aimed at preventing "undesirables" from entering their campus via ours.
It's true that the idea was mooted in discussions with the Teresian head of security, Mr Brokenshire, who said that if we didn't cooperate with enhanced border policing, he would have no choice but to mount an electrified fence topped with razor wire between the two schools. Happily, sense has now prevailed. And instead, the schools have agreed a more low-key approach based on intelligence sharing and the deployment of snipers.
St Enda's students who have taken to sneaking over there to buy stuff at reduced prices in the Teresian tuck-shop – or "looting" as our tuck shop manager calls it – are warned that they do so at their own risk.